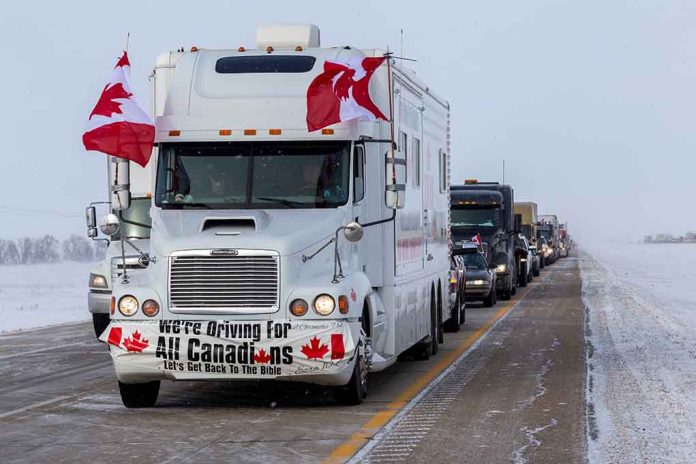 (DailyDig.com) – The Canadian convoy continues to grow, gaining worldwide support. People in every country are stepping up at a greater rate to speak out against mandates and show concern that governments are going too far. Now, a group of truckers and civilians in Alaska are joining the fray.
Alaska truckers form convoy to support Canadian protests https://t.co/izdItKTHCE pic.twitter.com/3ANBiHCmAG

— CTV News (@CTVNews) February 7, 2022
Over 100 trucks took to the road on February 6, driving a 10-mile stretch of road between Anchorage and Eagle River in a bid to show their support for the Canadian truckers that are part of the Freedom Convoy. Though the protests continue to unfold in Ottawa, Ontario, Canada's COVID-19 mandates do impact truckers and travelers from Alaska.
The problem lies in the fact that Canada's landmass separates Alaska from the continental US. As of January 15, Americans can't enter Canada without being fully vaccinated — and that means there's effectively no way to leave the state without flying. Not long after, the US implemented a similar restriction on essential non-residents.
A GMG General Inc. truck driver named Jeremy Speldrich noted that without a vaccine stamp on their medical cards, people in Alaska effectively can't leave the state.
The Anchorage to Eagle River convoy isn't the first of its kind. A second protest saw trucks travel from Eagle River to Wasilla, and on February 6, a similar event took place in Fairbanks. Another protest in Juneau took place late in January.
Some believe that protests might interfere with the upcoming Super Bowl. Truckers in the US have begun protesting COVID-19 mandates, much like their Canadian cousins. Will this become a more significant movement? Perhaps Alaskans will take a trip to D.C. soon.
Copyright 2022, DailyDig.com