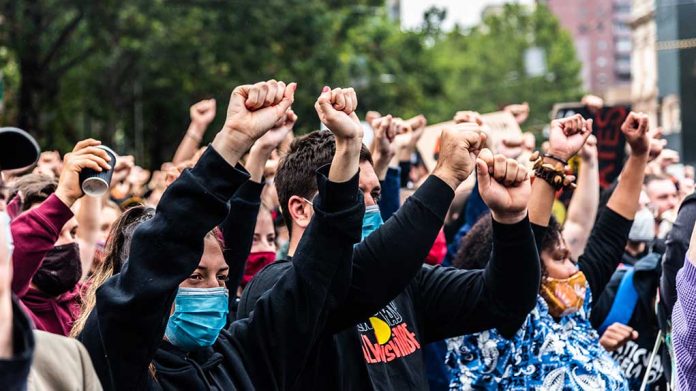 (DailyDig.com) – America witnessed massive protests all across the country in early 2020. Several evolved into violent riots, causing millions of dollars in damage to local infrastructure and buildings. Now, people are once again taking to the streets, this time to protest COVID-19 vaccine mandates.
In Melbourne, Australia, construction workers joined anti-vax demonstrators in response to a recent mandate forcing vaccines on industry workers. The order comes in the wake of a Delta variant explosion in Victoria. It demands workers receive at least one dose by October 5.
Construction workers and others opposed to new COVID-19 vaccine rules in Melbourne, Australia have taken to the streets. Some allege that right-wing extremists have infiltrated the increasingly violent protests. https://t.co/q7k5WqyuXg

— WBUR (@WBUR) September 22, 2021
Those who oppose the mandate started protesting to express dismay over what they say are draconian guidelines. Employees began taking breaks outside on Friday after the government put an end to indoor breaktimes. Some set up chairs and tables in intersections, creating roadblocks in central Melbourne.
Workers and protestors stood outside the Construction, Forestry, Maritime, Mining, and Energy Union (CFMEU) headquarters on Monday, where they continued to express disapproval over the new guidelines. The crowd initially chanted before attempting to rush the building. Furious demonstrators then threw bottles and smashed speakers.
Riot police quickly arrived at the scene. They used a combination of tactics, pepper spray and rubber bullets to break up the angry mob.
The CFMEU later released a statement denouncing Monday's violence to the fullest extent possible. They say the demonstrators injured an unknown number of people, including several officers. The union also separated itself from the protests, suggesting that extremists infiltrated the event to stir up violence.
Copyright 2021, DailyDig.com