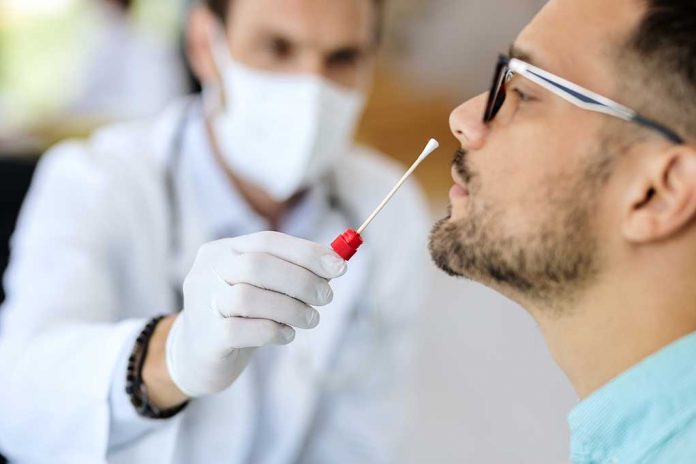 (DailyDig.com) – There's light at the end of the tunnel. The pandemic and its ensuing lockdowns seem to finally be under control. Yet, the Delta variant has spurred on a new push for caution. Officials are running more tests than ever — but who pays for them?
Doctors charge anywhere from $50 to $100 to perform a COVID test. That can get expensive very quickly. But the Delta variant's rapid spread has many major employers demanding that their staff members get tested. What does this mean for the employees?
Employees will be subjected to a number of safety protocols if they're unvaccinated. They may also need additional re-testing as often as once per week. At $50-$100 a pop, the associated costs (per employee and per week) has the potential to bury a company if they're not careful.
https://twitter.com/_therealmark_/status/142218743808938394
A research professor at the Center on Health Insurance Reforms of Georgia University suggested that the decision must be made by the employer, citing companies could "require employees to pick up the tab."
There have been cases of employers fully paying the tab. Unfortunately, there are also reports of the exact opposite: employers forcing unvaccinated workers pay the amount in full.
A new motion by the Biden administration requires federal employees to be fully vaccinated with proof of vaccination. If they refuse or are exempt, they must undergo rigorous testing and follow strict safety protocols at work. The good news for federal employees working directly under the US government is that their tests will be paid for in full by their employer.
Many Americans get tested at their local hospital or their own doctor. If they're insured, they'll be covered as required by federal law. Former President Trump wrote this into law during his time in office; President Biden continued the policy when he took over.
For some, there are hidden expenses along with their testing cost. These can range anywhere from a few hundred dollars to as much as $1000. Tests may cost more than they can afford to begin with, leaving them in a difficult position. Do they opt out for affordability? If so, will their employer terminate them for refusing to follow policy? Only time will tell, but for the sake of those already struggling, we hope this isn't the case.
Copyright 2021, DailyDig.com