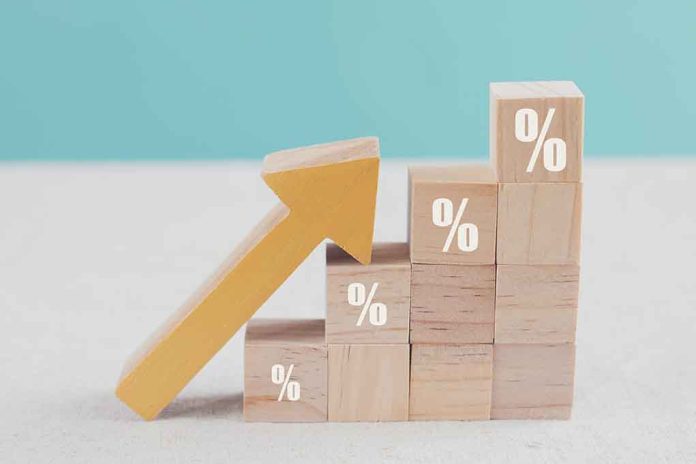 Feds Announce BIGGEST CHANGE In 28 Years
(DailyDig.com) – As Americans feel the pain of the highest inflation rate in decades, the Federal Reserve is hoping to slow it down. To do so, the Fed has announced an increase to its interest rate, the largest in nearly three decades. The only problem is finances are likely to get worse for Americans before they improve.
FED raises key interest rate by three-quarters of a point in biggest hike since 1994 https://t.co/WbFuTTFpz9

— Daily Mail US (@DailyMail) June 15, 2022
The Federal Reserve has increased its interest rate by 75 basis points, or 0.75%. The move comes as US officials attempt to tame inflation. It also has the potential to slow down America's economy, which could lead to a recession.
The largest rate hike since 1994 will put the federal funds rate between 1.5% and 1.75%, the highest it's been since the COVID-19 pandemic started two years ago. Officials are talking about the rate seeing its highest increase since 2008, reaching 3.4% by the end of 2022. To compare, those same officials predicted a rate of 2.5% by year's end back in March.
The decision comes as inflation continues to climb at an alarming pace, reaching 8.6% in May, up from last year. The figure is the highest it's been since 1981. The Fed expects another 50-75 basis point increase in July but has asserted the decisions will occur on a meeting-by-meeting basis.
With the Fed increasing its rate, borrowing will become more expensive for Americans, and prices will continue to increase in the attempt to slow the amount of money flowing into the economy. Despite the Federal Reserve's belief that it will be able to cool off inflation while avoiding an economic recession, people across the country may want to prepare for the worst.
Copyright 2022, DailyDig.com