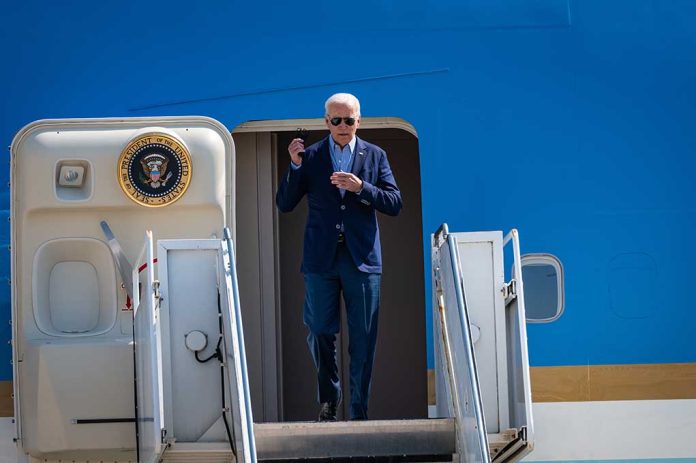 (DailyDig.com) – The US-Mexico border is in chaos, and the Biden administration seemingly does nothing about it. The president's ratings continue to drop as the country's problems pile up. So, why does he suddenly have time to travel across the Atlantic Ocean?
Joe Biden knows the world is in the midst of a political thriller–those who say the "honeymoon" with Europe is over are reading from the wrong script.

Biden heads out on his second European tour this week–and there's plenty of work to do. https://t.co/JexF4FIkZk

— Dan Baer (@danbbaer) October 26, 2021
The president will fly to Europe to attend the G-20 Summit in Rome, Italy, and the COP26 Summit in Glasgow, Scotland, where the United Nations is holding a climate change conference.
Meanwhile, Democrats scramble to pass his massive infrastructure bill, which currently hovers at around $1.75 trillion. The US continues to struggle with supply chains, inflation, COVID-19, and the continuing humanitarian crisis at the southern border.
Shouldn't these issues get more attention?
Officials anticipate that around 3,000 migrants are currently making their way through Mexico toward the United States at the present point in time. While Biden did tap Vice President Kamala Harris to take charge of the issue, many question why the president has yet to venture to the region and see the chaos for himself. Is he avoiding reality?
Biden's rapidly-dropping popularity will surely hurt his party's chances in the 2022 midterm elections. It may even stop him from securing reelection in 2024, especially if the southern border crisis worsens. Americans are taking notice of Biden's actions — and they aren't impressed.
Copyright 2021, DailyDig.com