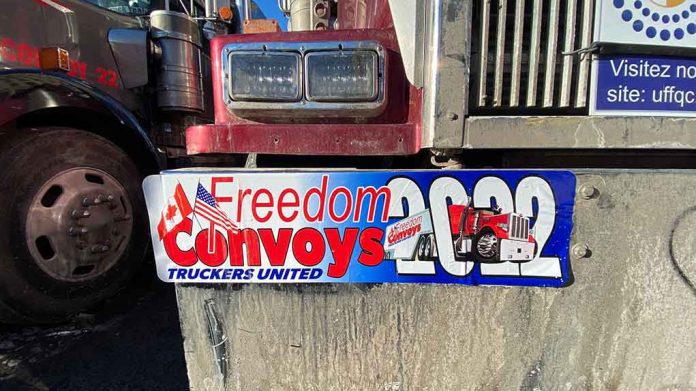 (DailyDig.com) – Winter can be unforgiving in Canada. As truckers block the capital in Ottawa, Canada, they're not going home or staying in warm hotels. Authorities thought they got the best of them when they confiscated fuel, believing it would leave the truckers no choice but to leave. However, the news outlet Citizen Free Press claims a local judge thwarted that plan.
Huge: Judge orders Ottawa police to return all fuel they seized from Truckers… https://t.co/rXz7szr7SL pic.twitter.com/652tZVprCi

— Dr. Jake Baker (@DrJakeBaker) February 9, 2022
The fuel is essential to the truckers as temperatures remain frigid. Without it, they can't run their engines and heat their cabs. Some have family members — and children — with them that they must keep warm.
Several media outlets are now claiming that a Canadian judge ruled in favor of the truckers, forcing authorities to return the fuel they wrongfully took from them in a desperate attempt to disperse the protest. A video posted to Youtube shows hundreds of gallons of fuel being transported to the protesting truckers.
The police's action shows just how desperate the Canadian government is becoming as it attempts to fend off the Freedom Convoy. However, the truckers have made it clear they have no intentions of going anywhere until Prime Minister Trudeau does away with COVID-19 mandates.
Do you believe the police had the right to enforce a blockade of fuel and other resources? Or do you side with the judge who forced authorities to return the necessary supplies?
Copyright 2022, DailyDig.com