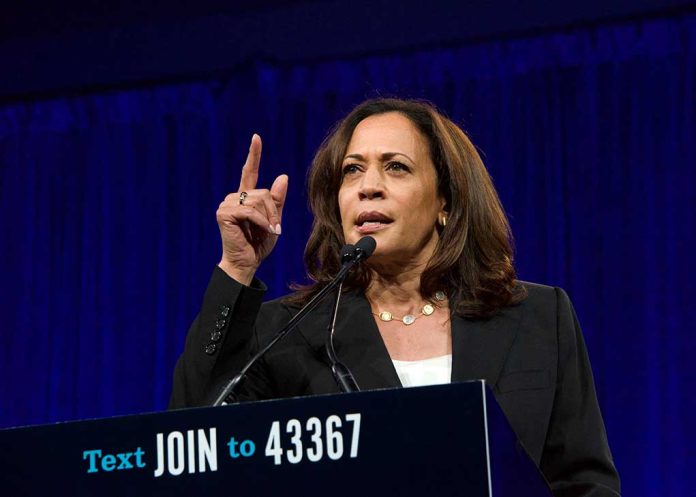 (DailyDig.com) – Typically, the Vice President agrees with the President. In the case of Kamala Harris and Joe Biden, that's not what's currently happening. She stands in disagreement with her superior on a critical topic.
VP Harris recently claimed that no one is to blame for COVID-19's spread, despite evidence suggesting it originated in China and quickly spread to the rest of the world. That statement doesn't sit well with most Republicans.
Harris still allegedly disagrees with Biden's recent assertion that unvaccinated Americans are causing the virus to spread throughout the US. Yet, the Democrat says this isn't the time to play the blame game.
VP Harris says it's 'no one's fault' that COVID-19 spread to U.S. – https://t.co/dxfC8gDU7G

— The Washington Times (@WashTimes) December 21, 2021
Harris' statement contrasts a second declaration she made during former President Trump's time as Commander-in-Chief. At the time, she blasted Trump, calling him delusional and accusing him of failing to take COVID-19 seriously. She also suggested the former president was responsible for the fact that people were dying from the virus every 80 seconds.
The CDC's most recent report suggests that around 800,000 Americans have died due to COVID-19. That statistic sat at just 400,000 when President Joe Biden first took office. Deaths have effectively doubled under his leadership, but what exactly does that mean?
Is Harris attempting to negate some of the blame she and her colleagues projected onto Trump? Or, is the VP sincere about not blaming others? Perhaps she's using the pandemic to further her own political agenda: blasting opponents while preaching about how wrong it is.
Copyright 2021, DailyDig.com