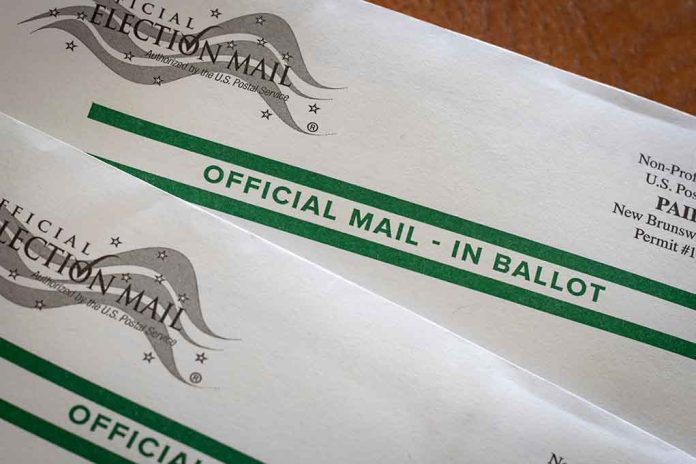 (DailyDig.com) – The 2020 presidential election was anything but smooth. Allegations of voter fraud and irregularities stemmed from absentee and mail-in voting. That's the issue at hand in one state where a court recently found new vote-by-mail laws to be unconstitutional.
Two years ago, Pennsylvania lawmakers implemented a law to allow mail-in voting, primarily due to the COVID-19 pandemic. In a win for pro-Trump Republicans, a state court recently struck down the law, claiming it unconstitutional. Judge Mary Hannah Leavitt ruled that for mail-in voting to be considered legal, the government would need to add a constitutional amendment to Article VII Section 1 and present it to the people.
https://twitter.com/LithiumPromos/status/1487367976521289729
Despite the Commonwealth Court ruling the two-year-old law unconstitutional, Attorney General Josh Shapiro (D-PA) and Governor Tom Wolf (D-PA) said they intend to resist the decision and attempt to have it overturned.
Shapiro was particularly outspoken on Twitter:
This opinion is based on twisted logic and faulty reasoning, and is wrong on the law. It will be immediately appealed and therefore won't have any immediate impact on Pennsylvania's upcoming elections. https://t.co/9LvBXyw29l

— AG Josh Shapiro (@PAAttorneyGen) January 28, 2022
Pennsylvania's State Department later stated that it also disagreed with the ruling and would work towards an appeal.
There are also concerns about how the balance of power between the two courts might affect the Supreme Court's decision, should it agree to hear the case. The five-panel Commonwealth Court is currently composed of three Republicans and two Democrats. However, Democrats now hold a 5-2 majority in Pennsylvania's Supreme Court. While it's impossible to predict a ruling just yet, that could spell trouble for the hotly-debated ruling.
Copyright 2022, DailyDig.com