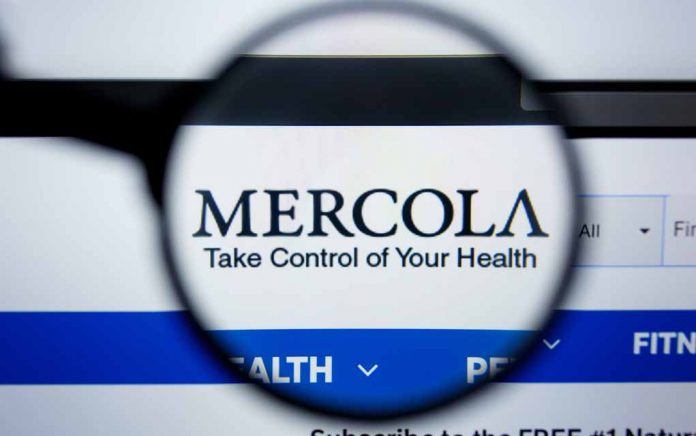 (DailyDig.com) – Doctor Joseph Mercola recently made an announcement in which he stated that all of his life's work that has been archived on his website is going to be removed. That announcement came in the wake of a deluge of misinformation complaints from those who simply disagree with his approach to health. Now, he's being targeted yet again by CNN.
Hypocrisy
CNN's Randi Kaye attacked Mercola for his opinion, vowing to track the doctor down to get his side of the story. Naturally, Kaye went to where Dr. Mercola's office is listed first in search of the "super-spreader." She entered the facility maskless and demanded answers from staff, all while standing just a few feet away from them.
What happened to social distancing?
Randi Kaye then went to Doctor Mercola's home, located more than 220 miles from the aforementioned office. She approached the gated home and spoke through the intercom, but the physician wasn't home.
Eventually, the reporter spotted the doctor riding his bicycle nearby. She then stalked him until he was forced to stop and speak to her. She was once again maskless and seemed totally unconcerned about her failure to follow social distancing guidelines.
Her questions attacked the doctor directly, but Mercola refused to take the bait. Instead, he climbed onto his bike and left, ignoring the Left-leaning journalist reporter and her one-sided queries. His only comment was to reply, "no," when Kaye asked Mercola if he was spreading misinformation.
The doctor later answered the questions that were emailed to him via email. Again, he noted that people should be encouraged to look at all of the facts before they can make an educated decision, especially when it relates to their health.
The First Attack
Doctor Mercola originally made the decision to remove all of his content and make his new daily content available for just 48 hours after being named the top "super-spreader" of Covid misinformation. The physician asserts his decision was motivated not by the attacks and media harassment, but by the most powerful man on the planet, the President of the United States (POTUS), instead.
Yes — he's' talking about Joe Biden.
In his announcement, Mercola mentioned he never imagined a time when a sitting president would encourage censorship and make what he calls McCarthyism-like attacks on a dozen Americans — himself included. He feels free speech is being silenced, saying the action is rapidly becoming "deafening."
Mercola's "Misinformation"
Doctor Mercola, like many Americans, finds the Covid vaccine dangerous. He says it is both untested and fast-tracked. The physician also feels masks "may not work," and advocates for alternative treatments for the coronavirus, such as vitamin C and vitamin D3.
Are these instances truly misinformation? Not according to the osteopath. They simply question the common narrative pushed by mainstream media and political influencers.
More importantly, Mercola isn't pushing his opinion on to his followers or forcing anyone to take his advice. He's simply providing one viewpoint and asking people to fully inform themselves before they decide — as all doctors should.
CNN's actions, and those of other organizations targeting 12 key Americans in the content business, do seem concerning. Mercola noted in his original announcement that we haven't learned from the past. Perhaps he's correct in his statement; censorship has no place in the American way of life. The First Amendment is in place for a reason — the fact that it's being ignored instead of being protected by those responsible should scare us all.
Copyright 2021, DailyDig.com