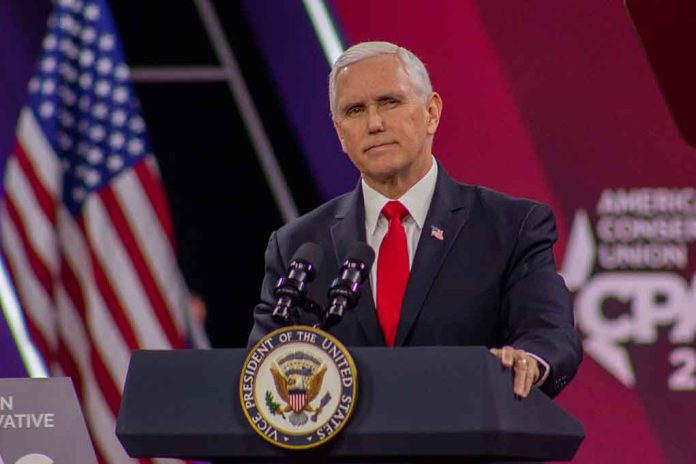 (DailyDig.com) – After a statement of candidacy was submitted to the FEC on Mike Pence's behalf on Monday evening, December 26, Twitter went into a clamor and several news outlets ran news stories suggesting that Pence had decided to enter the 2024 race. However, a spokesperson for Mr. Pence revealed that he did not file the required paperwork to declare his run for the presidency.
According to a tweet posted by a spokesperson named Devin O'Malley, "Former Vice President Mike Pence did not file to run for President today." O'Malley subsequently suggested that someone had played a joke on analysts and journalists.
Raw versions of the filings were published on the FEC website, indicating that the commission has not yet finished processing them. There was no indication of who had submitted them.
At 5:12 p.m. Eastern Time on Monday, a declaration of candidacy was submitted under the name 'Mr. Mike Richard Pence.' In earlier filings with the FEC, Michael was given as Pence's first name; the name 'Mike' was never used.
The identity of the 'Mike Pence' who submitted paperwork to the FEC is still unknown; nonetheless, the fact that this mistake occurred does not necessarily suggest that he will not run for the office of president in 2024.
In the event that Pence does decide to run for president, he will face off against former President Donald Trump, who announced his candidacy one month ago and has been unrelenting in his criticism of the former vice president ever since he left office.
The current governor of Florida, Ron DeSantis, the former governor of South Carolina, Nikki Haley, the senator from South Carolina, Tim Scott, the governor of Virginia, Glenn Youngkin, and the former secretary of state, Mike Pompeo, have all been mentioned as potential candidates for the presidency in 2024 by political analysts and Republican strategists; however, none of them have declared their intention to run for office as of yet.
Pence, on the other hand, stated earlier this month that he believes the American people would have alternatives in 2024 that are superior to Trump's to pick from.
Copyright 2022, DailyDig.com