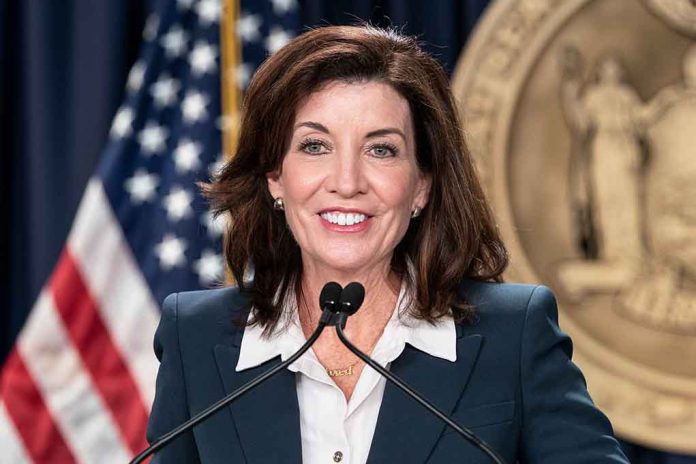 (DailyDig.com) – There's a new sheriff in town; well, a governor, that is. Many have speculated what kind of job the first female governor of New York will do. The new governor's first significant address shows that New York is on a different path than before.
Kathy Hochul served as the lieutenant governor for six long years under Andrew Cuomo, New York's former governor. She ascended to the office of the state's governor after New York Attorney General Letitia James found her predecessor guilty of sexual assault.
Governor Hochul hasn't said much during her initial months as the state's leader. But her first address to the state seems to be making a good impression.
New York Gov. Kathy Hochul steps into the spotlight with first major address https://t.co/4hrsxImnxE

— The Washington Post (@washingtonpost) January 6, 2022
Hochul still has a lot of impressing to do in less than a year before the 2022 elections to swing voters her way, but she's off to a good start. One of the most notable changes New York will see is Hochul's willingness to work with state lawmakers instead of arguing with them.
Governor Hochul also moved public addresses back to their traditional venue, the New York legislative chamber, instead of Cuomo's choice of the convention center. In the speech Hochul delivered on January 5, she asserted she would work to limit state officials to two terms and stop them from gaining outside income.
Hochul recently announced a plan to increase the number of healthcare workers in New York. The governor also seeks to invest in wind energy and advance an existing tax cut. She intends to provide a detailed budget by the end of the month.
New York lawmakers have already begun to notice the drastic transformations from the previous administration to the current one. Many welcome the change.
Hochul has a long road ahead of her if she wants to win the Democratic primary and earn a spot at the people voting for her to be governor. If she manages to win, she will be the first woman ever elected governor in New York after already becoming the first woman to serve as governor in the state.
Copyright 2022, DailyDig.com