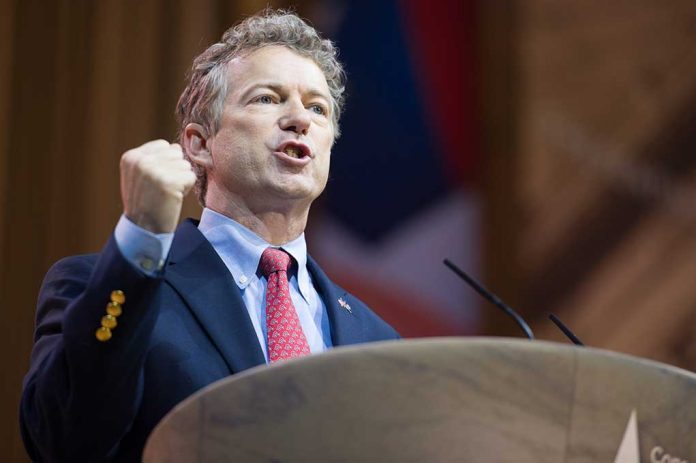 (DailyDig.com) – Dr. Anthony Fauci has been a focal point for many people since the beginning of the COVID-19 pandemic. Whether they criticize or follow the doctor is a matter of opinion; he is the nation's leading infectious disease expert. However, another doctor who just so happens to be a US senator is giving Fauci a run for his money.
Senator Rand Paul (R-KY) has consistently criticized Dr. Fauci throughout the pandemic. He accused the doctor of indirectly funding gain-of-function research at the Wuhan Institute of Virology through his directorship at the National Institute of Allergy and Infectious Diseases (NIAID).
Paul recently came forward to blast Dr. Fauci for yet another potential transgression: thousands of monthly COVID-19 deaths.
Rand Paul pins blame for thousands of monthly COVID deaths on Fauci over longstanding biases https://t.co/7vZR1qKrpj

— Fox News (@FoxNews) December 28, 2021
Senator Paul ultimately worried that Dr. Fauci demonstrates an extreme bias towards vaccines at all times. He feels the NIAID director consistently de-emphasized available therapeutics, instead insisting that vaccination was the only way forward. Paul said this politicized access to these alternative treatments, which he insists could have saved thousands of lives.
Paul fully admitted that vaccines can be effective in some instances, citing polio as an excellent example from the past. Yet, he is also careful to point out that they aren't always effective and don't always work. The ongoing battle to discover a vaccine for the AIDS virus is an example of these mixed results.
Instead of pushing for, or politicizing vaccines, Paul continues to be a long-term supporter of monoclonal antibody treatments. The National Institute of Health (NIH) says this option provides clinical benefits to sick patients and may even help prevent disease spread within residential homes. Senator Paul feels that Dr. Fauci ignores the importance of monoclonal treatments and natural immunity because it interferes with his ongoing vaccine agenda.
Copyright 2021, DailyDig.com