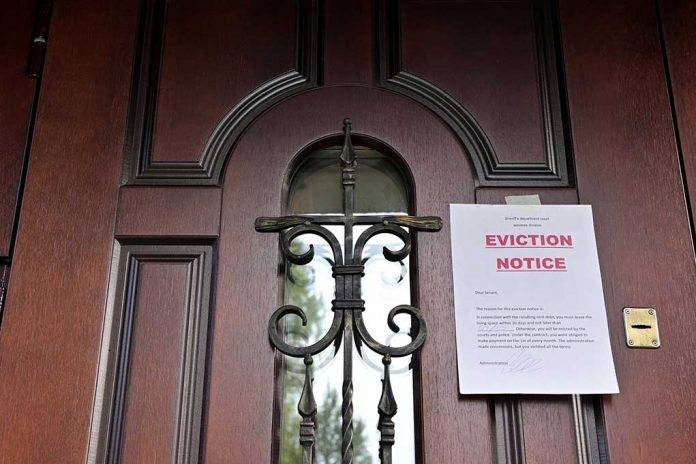 (DailyDig.com) – Americans have been struggling since the onset of the pandemic, and some have had to choose between paying rent and buying food. The CDC put an eviction moratorium into effect to allow people to get by without paying rent. Regardless, the action harmed residents who owned the homes and used rent as their income. Now, the Supreme Court of the United States (SCOTUS) is stepping in.
The CDC's moratorium ended July 31, putting people at risk of eviction. The CDC attempted to draft a new moratorium to begin August 3, but the SCOTUS ruled against it. The decision by the high court is a win for landlords, but it must come at the price of people who are struggling.
BREAKING: The Supreme Court lifts the federal eviction moratorium. In an unsigned 8-page opinion (with the three liberals dissenting), SCOTUS sides with a group of landlords who argued that the CDC lacked the authority to bar evictions during the pandemic.https://t.co/LNrCxd7f9X https://t.co/NecnZ90zgf

— SCOTUSblog (@SCOTUSblog) August 27, 2021
Both sides of the argument have made good points. Justice Stephen Breyer and his liberal colleagues mentioned the number of COVID-19 Delta variant cases increasing. He believes that evicting a mass amount of people could lead to a serious health issue.
The opposing side, which won the vote 6-3, stated that the CDC is standing on a decades-old authorization for fumigation and pest extermination. The conservative majority asserted that if a federal eviction moratorium is to continue, Congress must enable it.
A mere fraction of the money the federal government allocated to prevent evictions and aid people in keeping their homes has gone to needy recipients. It begs the question, "Where is all of that money?"
Several states got funds out to residents who needed it without hesitation. Why are some states having such a difficult time helping their residents? These are serious questions that could literally make or break the lives of countless Americans.
Copyright 2021, DailyDig.com