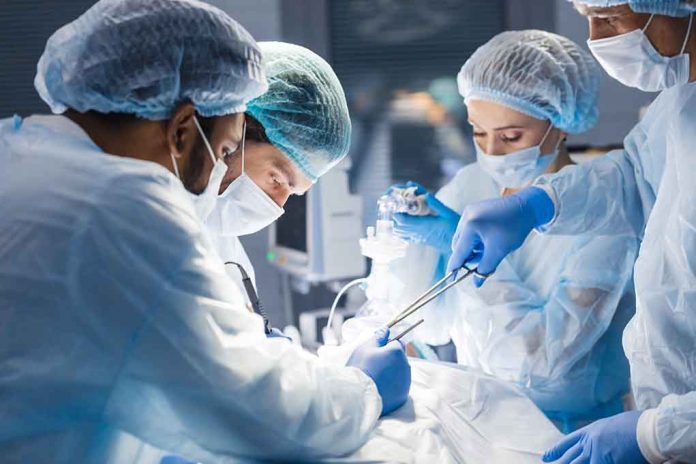 Hospitals Are HIDING This Data From America
(DailyDig.com) – Many Americans avoid going to the hospital due to the amount of money the visit will cost them. Previously, anyone admitted wouldn't know what they were going to end up paying until after medical staff provided the patient with care. In 2019, then-President Trump created a transparency rule requiring hospitals to disclose their costs up front, set to begin on January 1, 2021. Despite the legislation going into effect more than a year ago, a recent study shows many hospitals are still making little to no effort to be honest and upfront about their charges.
Startling Figure
Recent studies indicate that less than one-third of hospitals are currently in compliance with the Hospital Transparency Rule of the Centers for Medicare and Medicaid Services (CMS). To be exact, the Cleveland Clinic Foundation discovered that only 32% of the hospitals they researched were fully transparent when it came to joint replacement prices. The clinic decided to look into joint replacement as the operations are common and easier to predict in regard to costs.
Rice University also conducted a study of its own, where it found that only 35% of hospitals were following the CMS transparency rule. Researchers at the university admitted it would take time to implement the rule but asserted that despite COVID-19, the hospitals had "multiple years to prepare."
Hospital Transparency Rule
The Trump administration introduced the fairly new CMS rule as a way to reduce the amount of American overspending. The administration also sought to improve consumer amiability. The rule requires hospitals to list standard charges online for every service available and in a downloadable format. Every hospital must also make all items identifiable by billing code. The CMS rule instructs hospitals to provide this information for free, without the need for any personal information.
While around one-third of hospitals were in compliance with the regulation, only 23% did so correctly, allowing consumers to easily search a given hospital's procedures via the codes they provided. Another 20% called for personal information to access their pricing, while it took researchers more than 15 minutes to access the information at 17% of the hospitals.
People in the United States are already struggling with inflation and sky-high fuel prices, making hospital visits too expensive for many. The ability to access pricing information allows Americans to prepare and plan for medical procedures or decide if hospitalization is even a viable option. The Hospital Transparency Rule gives Americans the ability to shop for the best prices, just as they do with anything else. During such difficult times, the option is a crucial one. Hospitals not complying with the CMS rule are robbing Americans of vital information, forcing citizens to blindly get treatment and face devastating costs later.
Copyright 2022, DailyDig.com