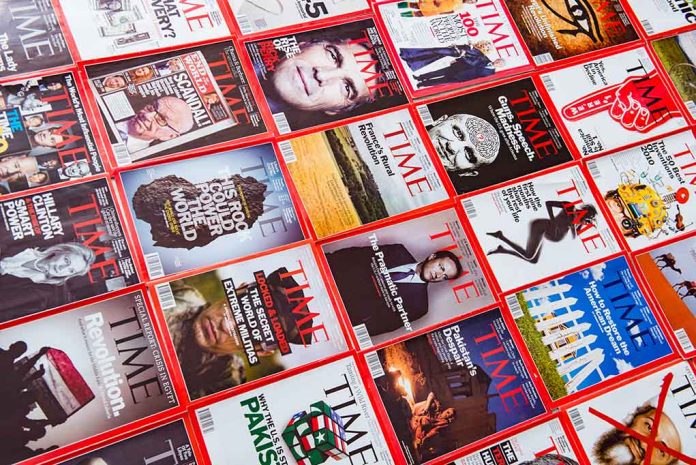 (DailyDig.com) – Photojournalists can take regular photography to gripping new levels, capturing moments destined to go down in history. Most people would argue 2021 was a year of high stakes and unspeakable loss. TIME Magazine recorded many of the most memorable events that shook the United States and the rest of the world.
TIME's top three photos highlight some of the greatest horrors most people of recent generations have ever witnessed. Along with the magazine's other top contenders, these images tell a story no words could adequately paint.
1. US Capitol Riot
January 6, 2021, marked one of the United States' darkest, most recent events. Photographer Christopher Lee had been on the scene to record the "Stop the Steal" rally when the event went south. The photographer followed as the mob made its move on the Capitol, and he stayed with the crowd as it breached the building.
Lee captured the moment when Officer Eugene Goodman stood his ground against the group of rioters and halted their advance.
TIME's Top 100 Photos of 2021 https://t.co/h8zGCEiuxb pic.twitter.com/pu1JCvdZys

— Alex Fitzpatrick (@AlexJamesFitz) December 20, 2021
Four civilians and one officer died during the riot. Over 140 suffered injuries. Officer Goodman displayed courage and dedication to his country in the face of confusion and violent intent, and his story offers hope that good will always ultimately prevail.
2. Taliban Takeover
On August 26, 13 US service members and over 170 civilians died after Taliban members attacked Kabul airport in Afghanistan. Citizens from both countries had packed the airport in a collective attempt to flee before the Taliban closed its borders for good.
Photographer Jim Huylebroek was there for the horrors that unfolded in the days to come. At the gates, he managed to take a shot of the image desperate people faced when they tried to reach the airport: a group of Taliban fighters praying as armed men threatened to shoot anyone who attempted to pass.
Powerful photos by @jimhuylebroek and @kianahayeri. The left one is by Jim, and the right one is Kiana's. Both are among @TIME's top 100 photos of 2021. pic.twitter.com/8CwIbgt3ns

— Sharif Hassan (@MSharif1990) December 15, 2021
3. COVID-19 Devastation
Since its discovery in 2019, SARS-CoV-2, the virus that causes COVID-19, has claimed over 5,400,000 lives. The pandemic has waxed and waned in nearly every region as it has made multiple passes around the globe and infected over 280,000,000 people. The virus hit India especially hard in April, and photographer Saumya Khandelwal was there to witness it.
Khandelwal wound up at a crematorium as a family carried a dead relative to one of the fire pits. Three of the four people handling the body wore full PPE. The deceased, Bharti Verma, had succumbed to COVID-19 at only 48 years old.
At a crematorium in New Delhi on April 27, Shivam Verma, in white PPE, helps carry the body of his sister-in-law Bharti, 48, who died of COVID-19.
Photograph by Saumya Khandelwal for TIME#IndiaCovidCrisis#CovidIndia#COVID19 pic.twitter.com/JVrA8Su7za

— sohail ahmad (@oolabmys) May 1, 2021
2021 tested the resolve of so many people. Yet, it also taught a lesson of strength and hope at the same time. This iconic year will retain its place in the history books for centuries. TIME's year in photos helps create an illustrated reminder of the moments the human race likely hopes never to repeat and proves just how strong the human spirit truly is.
Copyright 2021, DailyDig.com