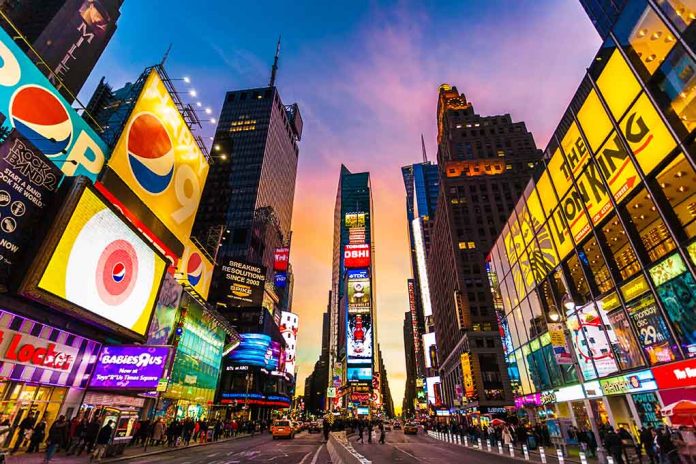 (DailyDig.com) – A Muslim man with a machete who hurt two police officers in New York City on New Year's Eve told prosecutors that he did it because the US supports Israel.
During an arraignment hearing on Tuesday, Jan. 3 an assistant prosecutor said that the 19-year-old attacker, Trevor Bickford, was seeking US officials because they can't be good Muslims because the government backs Israel. Prosecutors said Bickford was a flight risk, so he's being detained without bail.
Reports that Bickford was driven by Islamic extremism are backed up by his statements. He became a Muslim recently, and said he wanted to fight for Islamic militants in the Mideast, which made his family call the police. Later, the FBI put him on a watch list for terrorism.
Bickford has been charged with three counts of attempted first-degree murder, one count of attempted first-degree assault, and multiple counts of first- and second-degree assault by the office of Manhattan district attorney Alvin Bragg. If found guilty, he faces prison for life.
The attacker implored his family to convert to Islam in a notebook found on him after the crime. He told authorities he planned to travel to Miami before going out of the country, but he changed his mind and came to New York to murder people by Jihad. Bickford also labeled his brother an enemy for serving in the US military.
The attack occurred a few hours before midnight on Saturday, Dec. 31, just outside the zone where revelers are checked for weapons before getting into the biggest New Year's celebrations. Prosecutors say that Bickford said he decided to wait to attack until three NYPD police were alone. After cutting two of the officers with his machete, Bickford dropped it and tried to grab one of their guns to kill the other two before the third officer shot him.
Officers Paul Cozzolino and Louis Iorio were both shot in the head and taken to the hospital. They have now been released. Before shooting Bickford, Officer Michael Hanna was not hurt in any way.
Copyright 2023, DailyDig.com