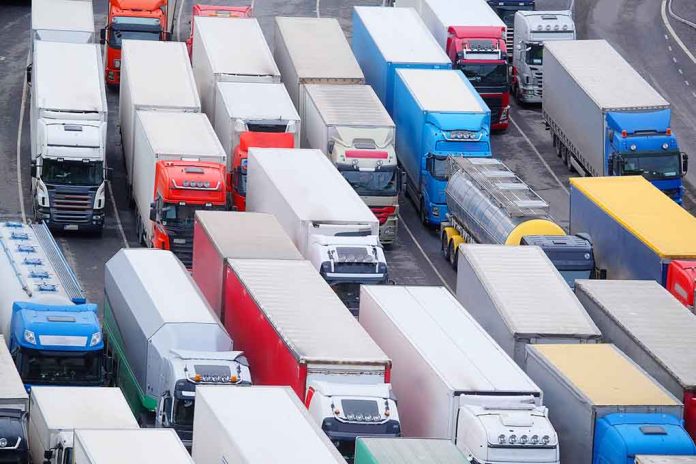 (DailyDig.com) – According to the Guinness Book of World Records, the largest trucker parade ever recorded occurred in 2020. Two years later, truckers are protesting government overreach and COVID-19 mandates in Canada. And that convoy just might smash the previous world record.
Tahya Misr Fund from Egypt holds the world record, with 480 trucks participating in a parade stretching 7.5 km (4.3 miles). The Egyptian caravan broke the previous Netherlands record of 416 trucks. But now, those records may be knocked from the top spot by the Freedom Convoy taking place in Canada.
WARMINGTON: 'Freedom' truckers may form world's longest convoy https://t.co/3azEc28kuO Via @joe_warmington pic.twitter.com/8wuQ3SyMgC

— Toronto Sun (@TheTorontoSun) January 26, 2022
Currently traveling from British Columbia to Ottawa, the Freedom Convoy could end up nearly 10 times as long as the Tahya Misr Fund caravan. The Freedom Convoy is protesting COVID-19 vaccine requirements at the US-Canada border.
Benjamin Ditcher, a spokesman for the Freedom Convoy, said he saw the line of trucks in footage captured from a plane. Ditcher claims it stretched for 70 km (43.5 miles). Some estimate the convoy contains up to 50,000 trucks from different regions of Canada, with several US truckers also taking part.
Canadians have opened the doors to their homes to the convoy, offering to feed the truckers while thousands of locals cheer them on from overpasses along the route.
Even Freedom Convoy organizers admit the grassroots demonstration grew far larger than initially expected.
Copyright 2022, DailyDig.com