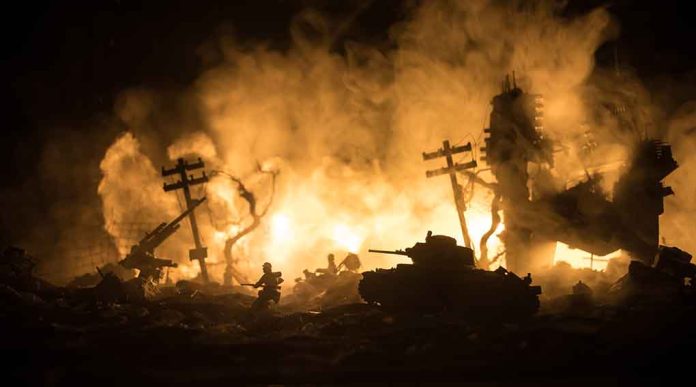 (DailyDig.com) – As we head towards the third week of conflict between Russia and Ukraine, the entire world is watching as Russian President Vladimir Putin attempts to steamroll President of Ukraine, Volodymyr Zelenskyy. There are no indications of the conflict coming to an end anytime soon, and Putin has threatened any country that aids Ukraine with severe consequences. The world fears it's on the brink of World War III, but one Ukrainian official believes it's already begun.
Alexey Goncharenko, a member of Ukraine's government, noted that WWIII was already here while he urged the United States to aid his home country. The lawmaker added that Russia isn't only attacking Ukraine, it's attacking the free world as a whole.
Ukraine MP: 'World War III has already started,' Russian invasion is an attack on the free worldhttps://t.co/Fn8gkrxso9

— Fox News (@FoxNews) March 3, 2022
Goncharenko noted the morale in Ukraine is high right now, as he requested the United States send weapons, not troops. He implored leaders to make other contributions to help Ukraine overcome Russia, which he is confident it can do. One request he had was for US officials to ban gas and oil from Russia.
The lawmaker believes Ukraine will ultimately be victorious. Goncharenko admitted that while Ukraine wants peace as soon as possible, it won't surrender to Russia. He mentioned the "peace talks" with Putin have been nothing more than hollow promises as the Russian president bombs Ukrainian kindergartens.
Another Ukrainian official, Minister of Foreign Affairs Dmytro Kuleba, noted how his home country severed any diplomatic ties it had with Russia, calling Putin's actions the most blatant act of aggression since the second World War.
Ukraine has severed diplomatic relations with Russia. I call on all our partners to do the same. By this concrete step you will demonstrate that you stand by Ukraine and categorically reject the most blatant act of aggression in Europe since WWII.

— Dmytro Kuleba (@DmytroKuleba) February 24, 2022
The Daily Beast reported on how the President of Belarus Alexander Lukashenko, a close ally of Putin, also warned of WWIII as his country prepared to send troops into Ukraine.
Do you feel the world is already in the midst of a third World War? Is Goncharenko right? How will this ultimately impact the United States?
Copyright 2022, DailyDig.com