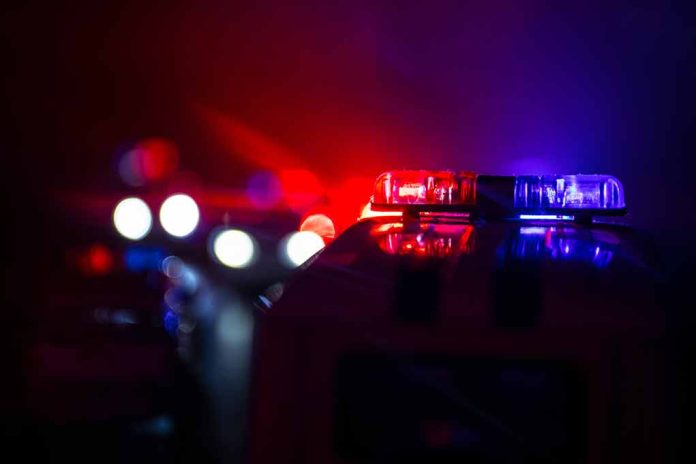 (DailyDig.com) – A bronze Buddha statue weighing about 250 pounds and valued at $1.5 million was taken from an art gallery in West Hollywood last week, and the heist was captured on camera.
On the morning of September 18, something occurred at the Barakat Gallery, located on La Cienega Boulevard. Paul Henderson, director of the gallery, claimed that when he arrived that morning, he noticed that the gate in front had been destroyed, and he became uneasy.
Police were alerted to the problem at the gallery at 10:30 a.m. The security video revealed that the statue had been stolen at 3:45 a.m. Henderson had checked the video and spotted someone driving in a pickup to the gate about 2:30 in the morning. A rope was tied to the gate, and he drove the truck to pull it open.
The authorities said the burglar used a dolly to load the statue into the vehicle.
The Buddha statue was created in Japan during the Edo Period c.1603–1867, and is made of bronze. This artwork was commissioned for a temple during its time period and would have been displayed prominently there. There aren't many available, so it's a valuable collectible that commands a high price. The website for the gallery indicates that Tadazou Iinuma was the creator of the statue.
Barakat Gallery specializes in classical antiquities and exhibits works of ancient art worthy of a museum. Their website describes the showroom as a space that spans 7,000 square feet with twelve individual rooms over two floors. The gallery's displays include antique jewelry, classical sculpture, and many other antiques. The structure's lively multi-dimensionality makes for a one-of-a-kind look into the ancient world.
The police have reported that they have opened a major theft investigation, and the perpetrator is still at large. The Los Angeles Police Department would want to hear from anybody who may have information about the Buddha.
Every day of the week, from 10 a.m. to 6 p.m., the gallery welcomes visitors.
Copyright 2023, DailyDig.com