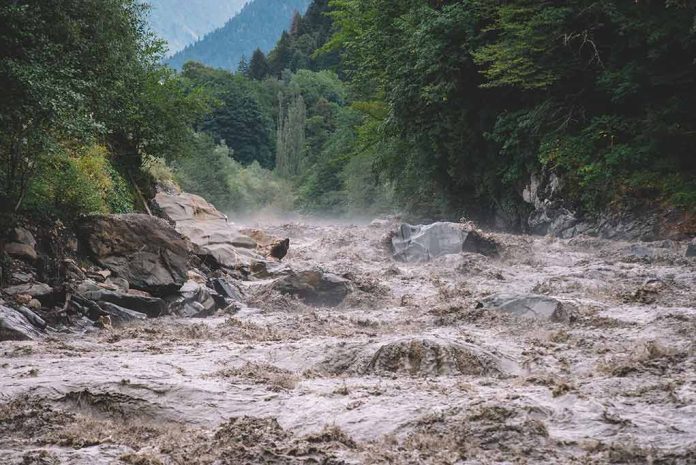 (DailyDig.com) – On May 22, a girl, 8, was found dead, and her younger brother, 4, was still missing after being washed away by the overflowing Kings River caused by the quick melting of mountain snow.
Authorities issued warnings for people to take care near rivers due to rising water levels and increased flows. Throughout the waterways, dozens of closure signs warn the public not to go swimming or fishing. As melting snow and dams unleash more water, the situation on the rivers will only worsen as we approach the summer.
Around 2:00 p.m., the Sheriff's Office in Fresno County received a call about missing children near the Pine Flat Dam on the Kings River. Nearly a mile downstream from the dam, the kids, their mother, and another adult all went into the river. They were attempting to swim to a certain rock, but the current swept the children away. They were not protected by life vests.
The young girl's corpse was discovered an hour later. The hunt for the missing boy was set to continue late Sunday into Monday.
A corpse was discovered in Folsom Lake, north of Sacramento, on Friday, and the Sheriff's Office of Placer County said they were conducting an investigation. Also, two individuals who were carried away in the American River within recent weeks are still missing. The enormous snowfall from last winter is melting and filling the rivers, making the water much colder, more powerful, and higher than usual. This is expected to persist for the remainder of the month, if not longer.
Lt. Brandon Pursell, of the Fresno County Sheriff's Department, stated on Sunday that the tragedy there was entirely avoidable. He said that the flow rate of the Kings River is "13,000 cubic feet per second" and that the water is freezing cold. Since March 14, recreational usage of the Kings and San Joaquin rivers has been prohibited, and anybody caught doing so faces penalties of up to $225.
No one knows when the rivers will be safe for swimming or fishing again.
Copyright 2023, DailyDig.com