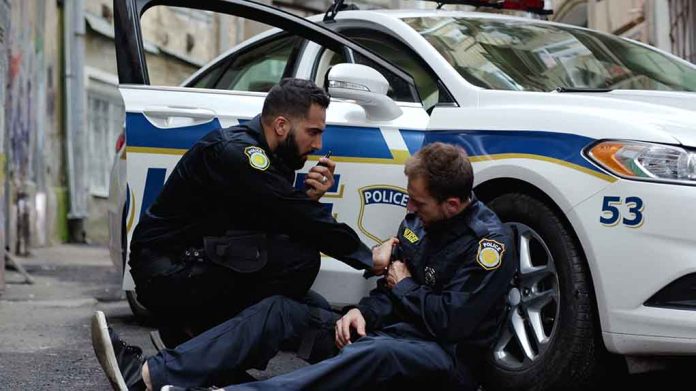 (DailyDig.com) – Every day, law enforcement officers (LEOs) put on their uniforms and badges and look in the mirror, wondering if today is the day they won't come home. Unfortunately, police officers are killed in the line of duty more often than people think. In a recent 24-hour period, a shocking 13 officers suffered gunfire injuries.
Of the 13 wounded officers, two suffered fatal injuries. The injuries happened in four separate states; Arizona, New Mexico, Maryland, and Pennsylvania. In New Mexico, a vehicle rammed a state trooper's car, and occupants shot at the officer as he gave pursuit. A SWAT officer attempted to serve a drug warrant in Pennsylvania when the suspect fired through the wall, striking the officer in his body armor.
UPDATE: 24-hour-period sees 13 police officers wounded by gunfire in war on cops https://t.co/nPaj2TM2a3

— Fox News (@FoxNews) February 14, 2022
In Phoenix, Arizona, officers responded to a call about a woman shot in a domestic dispute. The suspect allowed officers into his home before repeatedly firing on them, getting into a shootout with authorities. The incident resulted in nine injured officers, and the suspect and female victim both died from their injuries.
In Maryland, two officers responded to calls about a suspicious person. The suspect shot the officers. Officers returned fire, wounding the suspect. Authorities transported the suspect to a hospital for medical care.
Betsy Brantner Smith, a retired Chicago officer with 29-years of experience and spokeswoman for the National Police Association, told Fox News Digital this is a war on cops. Smith noted that most attacks occur while police conduct routine duties, like responding to domestic disputes or stopping a vehicle.
There has been a 59% increase in the number of officers intentionally killed from 46 in 2020 to 73 in 2021. The last time the country lost so many LEOs to gun violence in a single year was 2011, when 72 officers died in the line of duty.
What do you think? Is the increase in violence against officers a result of the calls to defund police and other progressive policies, or is there something more causing people to target officers? Reply to your email and let us know your thoughts. We'd love to hear from you.
Copyright 2022, DailyDig.com