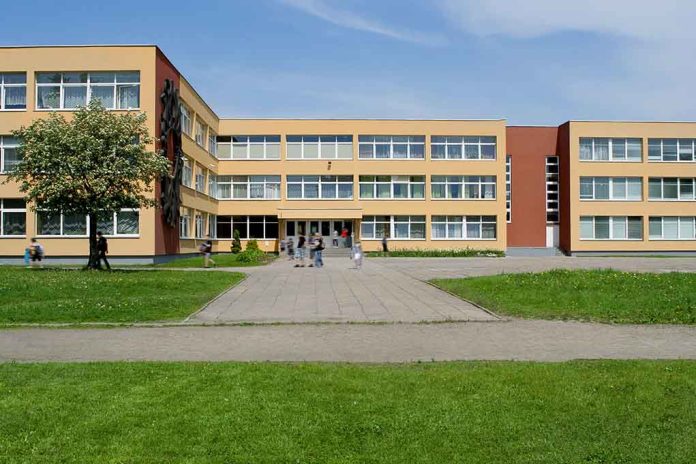 (DailyDig.com) – It's been a tragic couple of weeks for the people of America. First, a Christmas parade massacre occurred in which a man drove his SUV into a parade of people, killing five and wounding 62. Then, a teenager shot and killed students at a Michigan high school — a crime for which he will now face trial in adult court.
BREAKING: Judge orders a 15-year-old Michigan boy charged in school shooting held without bail. Ethan Crumbley will be moved from a juvenile facility to a county jail. Four students were killed and others injured in the shooting at Oxford High School.. https://t.co/TJ7VgM05YU

— The Associated Press (@AP) December 1, 2021
Ethan Crumbley took a 9mm Sig Sauer handgun to Oxford High School on November 30. The teen entered a bathroom with his backpack, came out with the gun, and began firing at students in the hallway. During the incident, he killed 14-year-old Hana St. Juliana, 16-year-old Tate Myre, and 17-year-olds Justin Shilling and Madisyn Baldwin.
Officers arrested Crumbley a short time later and eventually charged the 15-year-old with two dozen crimes, including terrorism, attempted murder, and murder.
Prosecutors assert that Crumbley intended to shoot and kill as many people as possible. They point to a video the teen recorded the night before in which he talks about murdering students as evidence.
When the judge presiding over the case asked the young man if he understood the charges against him, Crumbley simply said "yes." Defense attorney Scott Kozak then entered a not guilty plea on the teen's behalf.
Sheriff Mike Bouchard says authorities found an additional 18 rounds of ammo on Crumbley shortly after his arrest. According to Sheriff Brochard, the boy's father bought the gun only a week prior. It isn't clear how he managed to gain access to the weapon.
Prosecutors are considering charges against the parents, asserting that owning a gun means keeping it locked up and separated from ammunition.
Copyright 2021, DailyDig.com