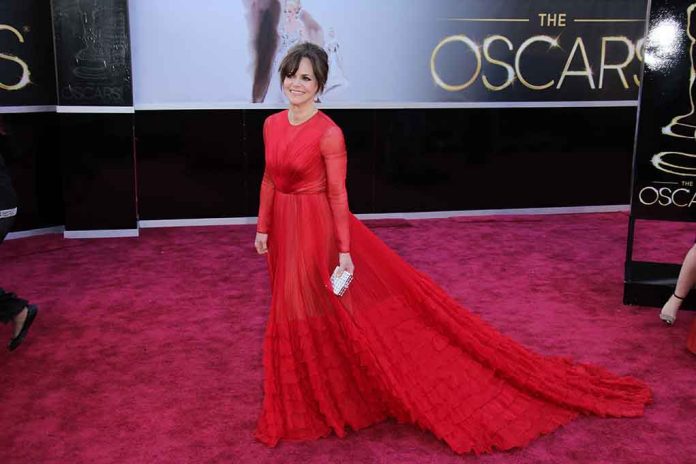 (DailyDig.com) – Sally Field, the 58th winner of SAG-AFTRA's utmost honor, the SAG Life Achievement Award for professional success and humanitarian achievement, has been selected.
Field will be the 58th winner of the actor's guild homage award, following notable recipients such as Helen Mirren, Robert De Niro, Alan Alda, and Morgan Freeman.
"Sally is an amazing actor with an enormous range and an uncanny ability to embody any character. I joyfully watched her early career when she portrayed Gidget and the Flying Nun and then, in ever more challenging roles, as Sybil and Norma Rae. She never stopped being extraordinary, including as recently as Winning Time in which she was simply sublime as Jessie Buss," said Fran Drescher, SAG-AFTRA President.
The SAG Life Achievement Award, given yearly to an actor who promotes the highest standards of the acting industry, will be Field's latest honor after scores of famous roles on both big and small screens. She has won multiple honors, including Oscars, SAG, Emmy, BAFTA, New York Film Critics, National Board of Review, Los Angeles Film Critics, the National Society of Film Critics, and Best Actress at Cannes.
Field joined the American Academy of Arts and Sciences in 2012 and received the National Medal of Arts from President Obama in 2015. She won the 2019 Kennedy Center Honor.
The many roles the 76-year-old actor performed included "Places in the Heart," "Norma Rae," "Forest Gump," "Steel Magnolias," "Smokey and the Bandit," "Absence of Malice," "Kiss Me Goodbye," "Mrs. Doubtfire," and "Lincoln".
Field most recently featured in filmmaker Michael Showalter's Spoiler Alert and will star in the forthcoming comedy 80 for Brady alongside Jane Fonda, Lily Tomlin, and Rita Moreno.
Field will be honored at the 29th Annual Screen Actors Guild Awards presentation on Sunday, February 26 at 8 p.m. ET / 5 p.m. PT from the Fairmont Century Plaza in Los Angeles, which will be aired live on Netflix's YouTube channel.
Copyright 2023, DailyDig.com