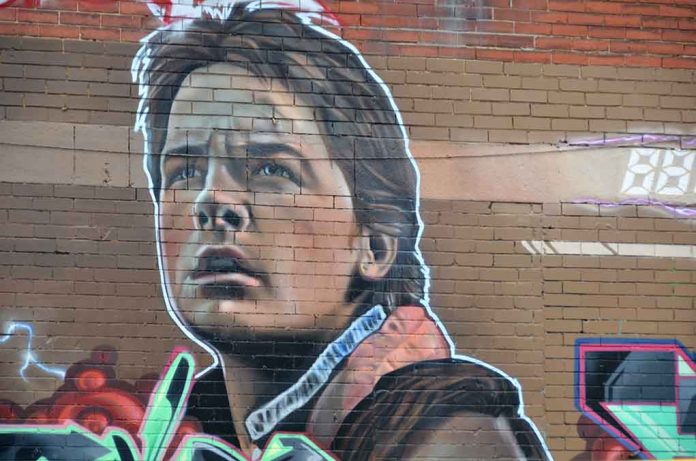 (DailyDig.com) – Over the weekend of February 17-19, the cast of "Back to the Future" reunited, and it was like 1985 once more. Lead actor Michael J. Fox, co-star Christopher Lloyd, Lea Thompson, and Tom Wilson, all from "Back to the Future," recently got back together to honor the classic movie at Fan Expo Portland.
The almost 40-year-old "Back to the Future" trilogy directed by Robert Zemeckis follows a young man named Marty McFly (played by Fox) who, while driving his buddy Doc Brown's (played by Lloyd) time-traveling DeLorean, unintentionally travels 30 years into the past. The sequel to the Academy Award–winning film had McFly visit 2015 and then 1955, while the third installment found him trapped in 1885.
The actors documented their outing with photos on the social media platform Instagram.
On Instagram, Fox said that he enjoys being at the FanExpo engagements and meeting some of his absolute favorite friends, like Lea, Chris, Tom, and all of the "Back to the Future" enthusiasts.
After finding the flux capacitor, Lloyd captioned a shot of the four of them together. Referring to the machine that, according to his character, makes traveling in time feasible, he successfully returned them to the year 2023, just 'time' to be there at the Expo.
Thompson, who portrayed Lorraine Baines-McFly in the trilogy, shared many videos and photographs from the celebration on her social media accounts. She exclaimed that she genuinely had the nicest time that day with her "Back to the Future" friends. She said that she had so many amazing fan encounters, too.
Wilson couldn't help repeating one of his characters' most famous lines, "Hello, anyone home?" while rapping on Thompson's head as Biff does to George, Marty's dad in "Back to the Future." Wilson opted for a selfie with the four of them and wrote in a straightforward text that it actually happened that they were all together in 2023.
In October 2022, Fox and Lloyd reconnected at the New York Comic Con. When they spoke about their initial encounter, they were applauded by the audience.
Copyright 2023, DailyDig.com