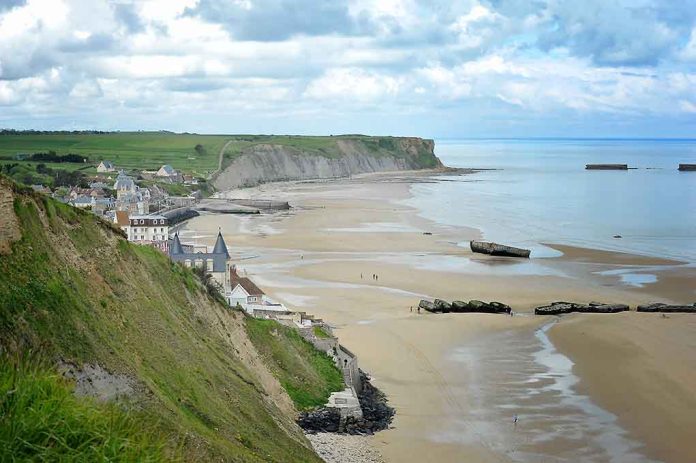 (DailyDig.com) – Barely in time, English beachgoers dodged disaster when a cliff above West Bay Beach gave way, sending tons of debris the size of vehicles and rocks crashing down onto the shore.
On August 8, after heavy rains and severe gusts from the weekend's Storm Antoni (with recorded winds of 78 mph), cliff rangers reacted to reports that the cliff had fallen.
The council was informed of the landslide by the Solent coastguard, and the area was roped off by West Bay coastguard members, according to a council spokeswoman. It will likely last for about six months. The city council sent out rangers to patrol the region and maintain the seaside trail's signs.
In addition, the spokesman stressed the need to exercise prudence and common sense when visiting the beautiful Jurassic Coast. Avoid going near the cliff's base or edge, and always pay heed to any safety information along with the tidal schedule.
Dorset County Council warned that landslides and rockfalls were always a possibility after the tragedy. These individuals narrowly avoided disaster. Above West Bay's cliff, the South West Coast Path is blocked for the time being.
These cliffs have been used in several movies and TV series, including the smash hit "Broadchurch", a crime drama, and the classic by Carey Mulligan, "Far from the Madding Crowd."
On May 21 of this year, it was learned that a different collapse had occurred near the same spot, perhaps as a result of the heavy rains that had fallen the weekend before.
Locals at the time said boulders had caught several individuals, but authorities checked CCTV video and used a drone to confirm no one was in the area of the cliff when it collapsed.
Officials have stressed again that pedestrians should monitor the tides, avoid the cliff face, and not walk too near the base. They also stressed the need to keep animals away from the cliffs while visiting them.
Copyright 2023, DailyDig.com