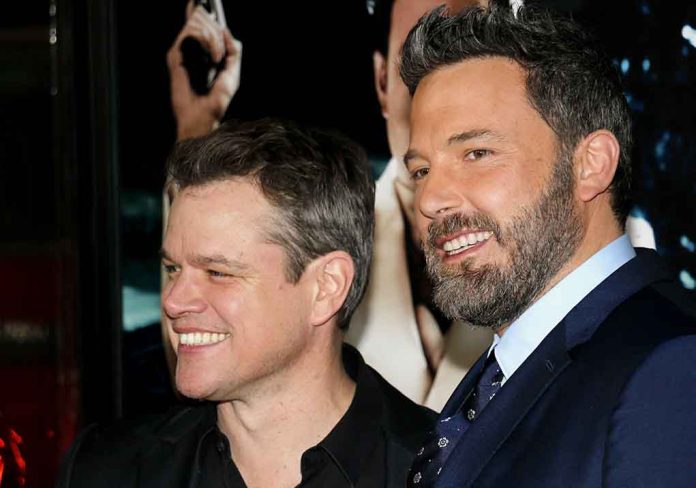 (DailyDig.com) – As they get older, Matt Damon and Ben Affleck are going to do everything, even team up on a new film, to spend time with each other.
The new movie "Air," about how Nike became a global phenomenon thanks to a sneaker named after NBA rookie Michael Jordan, reunites the two actors, who both say they are overjoyed about the opportunity.
Affleck, who acted and directed the movie, claimed that it was the most enjoyable endeavor of his career. While directing Damon, Affleck realized that the project's tone was in part due to Damon's confidence in him as a filmmaker.
Affleck, 50, claimed that they were surprised they had been friends for so long and wondered why they weren't spending more time together. Damon, who is 52 years old, chimed in, saying they can now see the "end of the tunnel!"
They went through years of shared poverty as actors in Hollywood after growing up in the same city as Cambridge, Massachusetts. In 1997, thanks to "Good Will Hunting," they shot to fame.
Affleck stated that in March of 1998, he was twenty-five years old. He believes he has a long way to go in terms of learning. Being 25 and thinking you know everything is a curse.
He claims to have matured as a person and acquired some valuable lessons in the years afterward, most notably the futility of chasing after money, no matter what happens in one's personal or professional life.
He explained that material wealth is not everything. You'll miss opportunities if you devote your life to making money. Instead, he was content with his life since he was in Los Angeles near his kids and because he was working with his closest buddy. He is quite satisfied.
Affleck also spoke about how much fun it was to work with his wife, Jennifer Lopez, on their next production of "Unstoppable." According to his advice, success in life is fairly certain if one enjoys spending time with your loved ones.
Copyright 2023, DailyDig.com