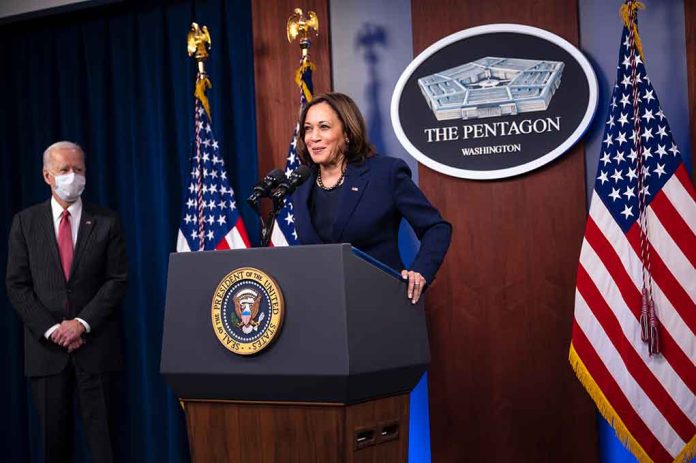 (DailyDig.com) – On Tuesday, January 17, the Border Patrol union criticized Vice President Kamala Harris for the way she has handled the situation at the southern border, arguing that the problem has only gotten worse under her leadership.
https://twitter.com/BPUnion/status/1615395690863300608
The criticism comes after Biden made his first trip to the border as president last week, when he went to El Paso. The trip followed the implementation of a variety of new measures that were intended to deter illegal crossings and increase legitimate asylum options for migrants.
Critics claimed that the president's first visit to the border with Mexico misrepresented the scope of the emergency. They cited accounts that migrant camps were cleared away and public officials were ordered to increase detentions of illegals to prepare for Biden's trip.
President Biden was also chastised by the Border Patrol union over the disaster. The organization released a photo of Joe Biden on Twitter, with the text suggesting that he is the reason for our crisis at the border.
Biden tasked Harris with addressing the border crisis immediately after they took office in 2021. Since then, the number of unlawful border crossings has reached record highs.
According to a letter signed by 56 House Republicans, President Joe Biden should delegate responsibility for resolving the border situation to someone other than Kamala Harris.
In the letter, the congressmen also stated that they were not aware of any substantial changes in Central American nations over the previous few months that would lead to such a large difference in contacts at the border relative to last year. Even though the country is in the middle of a border crisis that has not been seen in twenty years, Harris has not demonstrated sufficient interest in witnessing the problem personally to see what's going on.
For the previous nine months, migrant interactions have exceeded 200,000. In comparison, 458,000 migrant interactions occurred during fiscal year 2020. More than 1.7 million contacts were recorded in fiscal year 2021, and 2.3 million encounters were recorded in fiscal year 2022
Copyright 2023, DailyDig.com