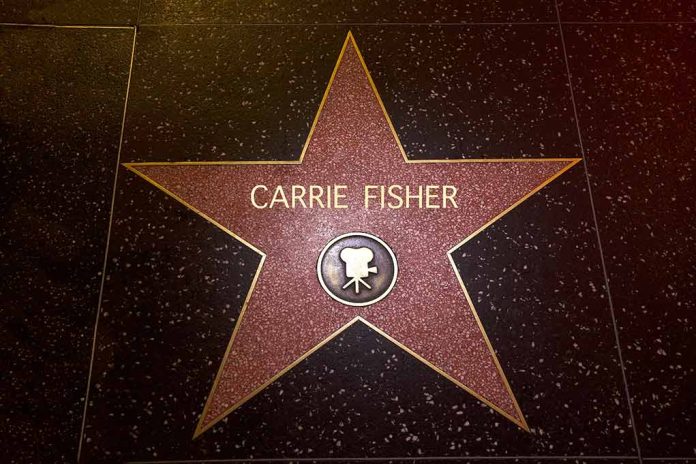 (DailyDig.com) – A new trailer for "Wonderwell," the epic adventure that is the late Carrie Fisher's last film, has been released. On June 23, the film will have a limited theatrical release.
In the latest teaser from Strange Quark Films, newcomer Kiera Milward plays the curious American young girl Violet, who moves to Italy with her family after becoming a model for a world-famous designer's fashion label, who is played by Rita Ora. Nell Tiger Free plays Violet's sister, Savannah.
Violet enters a stunning fantastical realm as she explores a strange well in the woods near the charming medieval Tuscan village. Fisher's mysterious Hazel, who may be a witch, grows both little and large Venus flytraps that feast on flesh.
After being led by Hazel through a strange portal, Violet gets a glimpse of her future but realizes she may be embarking on a trip with no turning back. According to the trailer's tagline, the journey is equal parts funny and horrifying. The curious young lady will embark on an adventure in a fantastical and entrancing environment that will alter not just her but her whole universe.
The one and a half-minute trailer hints that there is a combination of live-action and CGI sequences, as well as the film's larger-sized animals. Hazel is seen going up against Yana, the famous fashion designer; Violet's boss, with a cold demeanor, who claims the town for herself; and Daniele, Yana's stepson, portrayed by Sebastian Croft.
Produced by Robert Bernacchi, Fred Roos, Lee Rudnicki, Vlad Marsavin, Alexander Roos, and Orian Williams, "Wonderwell" was helmed by Vlad Marsavin, and William Brookfield wrote the screenplay. Vertical Entertainment is handling the domestic and international distribution of the picture.
On June 23, the film will have a limited release in theaters through AMC and also be available digitally.
Before her untimely death in late 2016, Fisher, 60, finished shooting "Wonderwell" and "Star Wars: Episode VIII – The Last Jedi," her last appearance as Leia.
The director plans a dedication to Carrie Fisher.
Copyright 2023, DailyDig.com