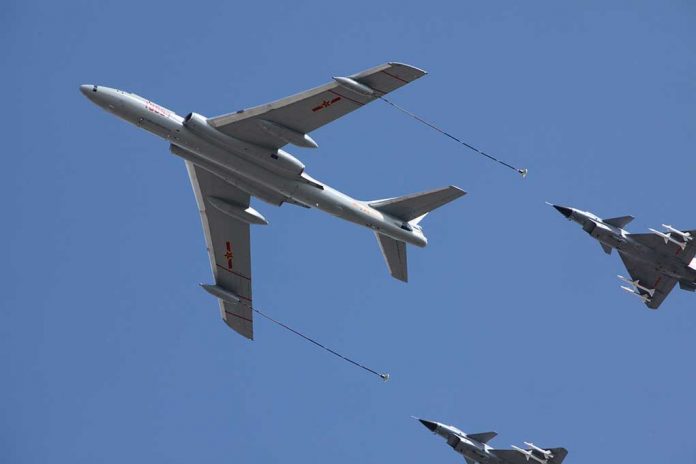 (DailyDig.com) – The island of Taiwan is a sovereign state complete with its own government and military. Intel, the world's largest producer of microchips, also happens to call the tiny country home. This fact makes Taiwan extremely valuable on a global scale. Despite its independence, China views Taiwan as part of its own territory – a point of tension in international relations.
China recently sent 19 aircraft into Taiwan's air defense identification zone (ADIZ), causing the nation to raise red flags for a potential attack.
#China threatens #Taiwan airspace – defense ministry says 19 #Chinese warplanes entered air defense zone in largest ever incursion, with fighters & nuclear-capable bombers entering sovereign Taiwanese air defence identification zone (ADIZ) https://t.co/F3TkN2YtxI

— Ayoka Systems (@ayokasystems) September 6, 2021
The island country's Ministry of National Defense (MND) later confirmed the People Liberation Army (PLA) violated their airspace with a frightening team of four Su-30 fighters, 10 Shenyang J-16 fighters, one Shaanxi Y-8 anti-submarine plane, and four Xian H-6 bombers on September 5.
19 PLA aircraft (Y-8 ASW, H-6*4, J-16*10 and SU-30*4) entered #Taiwan's southwest ADIZ on September 5, 2021. Please check our official website for more information: https://t.co/4krSmean3X pic.twitter.com/1sV3OA4ode

— 國防部 Ministry of National Defense, R.O.C. 🇹🇼 (@MoNDefense) September 5, 2021
Taiwan responded by sending fighter jets to intercept the aircraft within the ADIZ. China's decision to dispatch aircraft into the zone marks the third such move in the space of a month, following incidents on September 3, 4, and 5.
According to Taiwan News, the island nation identified Chinese aircraft in the ADIZ a total of 84 times between January and April. It first made this observation in May after the tiny country experienced its 7th Chinese penetration of the ADIZ in that month alone.
China has yet to attack Taiwan. Though, its constant violations could be an attempt to scare Taiwan into submission. The island country continues to hold strong for the moment — but will this be enough? Could their refusal to comply with the CCP trigger China to further escalate their efforts into an all-out invasion? The US Military would ultimately be forced to step in and provide aid to Taiwan in the event of an attempted hostile takeover.
Copyright 2021, DailyDig.com