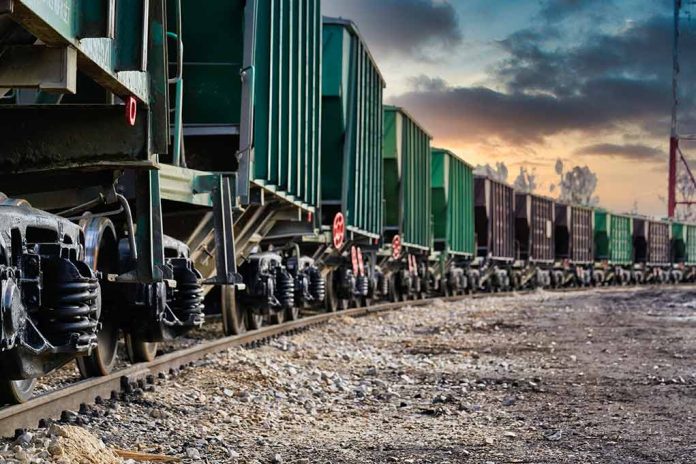 (DailyDig.com) – Ammonium nitrate is an explosive and a fertilizer, and when it disappeared from a train carrying it from Wyoming to California, four different inquiries were launched.
The huge improvised bomb used in the 1995 Murrah Federal Building terror assault in Oklahoma City had ammonium nitrate as its explosive. In 2020, this material also triggered an explosion that killed people in a storage facility in the Lebanon port of Beirut.
According to a May 16 report by KQED, a radio station in the Bay Area, a train car carrying 30 tons of ammonium nitrate departed on April 12 from Cheyenne, Wyoming. An incident report provided by the company that made the explosive load states that the train car was empty when it arrived at a train stop two weeks later in the Mojave Desert.
The business, Dyno Nobel, notified the National Response Center (NRC) on May 10 of the situation. The Emergency Services in the California office also included the report in their database on May 17.
In the eastern section of Kern County, nearly 30 miles from the town of Mojave, is a rail siding (a brief track linking to the primary track) called Saltdale. Dyno Nobel claims it maintains that the substance, shipped in the form of pellets in a covered container car like those utilized for transporting coal, fell from the train car.
A representative for the firm claimed that all of the seals on the train were still in place when it reached Saltdale from the Cheyenne plant. The first investigation indicates that the car may have developed a leak via the bottom hatch during its journey. According to the results of the inquiry, it seems that one of the gates on the hopper train car may not have been shut all the way.
This incident with a dangerous chemical is the latest in a string of rail issues over the past few months. A train hauling hazardous materials derailed near East Palestine, Ohio, in February, starting a large fire that scattered the chemicals throughout the area.
Copyright 2023, DailyDig.com