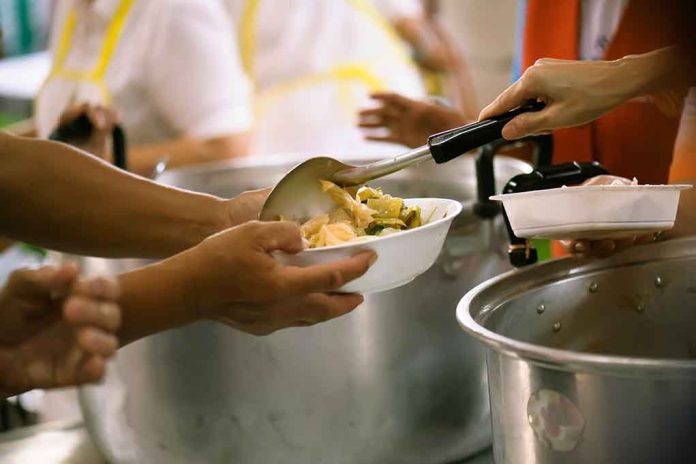 (DailyDig.com) – When it comes to the community, Dave Grohl is known as a man devoted to the people. The lead singer of the Foo Fighters showed remarkable generosity and kindness by volunteering his own time to help those in need.
According to Billboard, Grohl spent many hours last week, February 15-17, barbecuing for the homeless at Hope Mission in Los Angeles while storms raged in the area.
Hope of the Valley Rescue Mission Chief Financial Officer Rowan Vansleve shared a film that Grohl shot to support the mission's 350-Mile Run to End Homelessness. Vansleve and his coworker, Ken Craft, raced from Las Vegas to their home in Los Angeles in order to raise money and awareness for the homeless.
Grohl sent the video to Vansleve when he and Craft were halfway through their 350-mile journey to eradicate homelessness. He wished them well on their run and prepared a huge meal for the roughly 500 individuals who live and are taking refuge in the shelter during the biggest storm in decades.
In the wee hours of the previous Wednesday, Grohl arrived at the mission and stayed for a total of 16 hours, cooking barbeque, feeding the hungry, chatting with the less fortunate, and helping to document everyday life for people who may not always be able to experience it. The fact that Grohl didn't seek out this attention as a publicity stunt helps to elevate its sincerity and uniqueness. He not only provided the meat smoker but also paid for the meal.
Grohl has cooked BBQ before, so he isn't starting off with the charity event. Cooking for a large group was his first experience behind the grill, and he credits his time spent with firemen battling Malibu Forest fires for his inspiration. He wished he could prepare meals for all the evacuees. As a way to express his gratitude, he barbecued several hundred pounds of pork and sent care packages to local fire stations. He said, "Those guys were heroes."
Copyright 2023, DailyDig.com