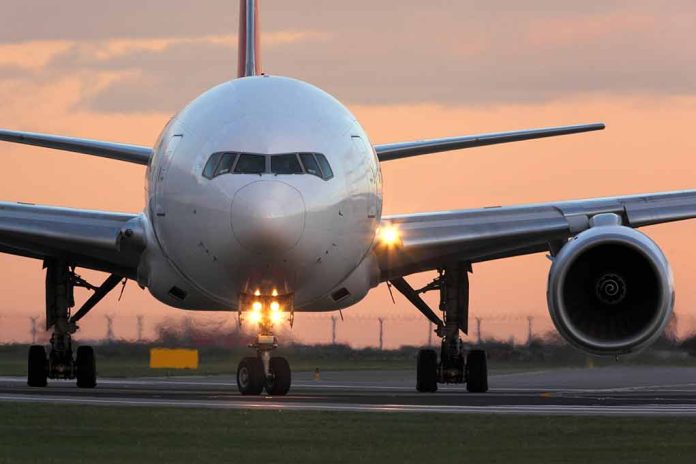 (DailyDig.com) – On June 28, a technical problem forced a Delta airplane to make a forced landing in Charlotte, North Carolina. The jet, which had taken off from Atlanta, Georgia, touched down safely with the nose landing gear up instead of down. There were no reported injuries among the passengers or crew.
On Wednesday, June 28, 2023, in Charlotte, North Carolina, the airport and emergency services responded to a Boeing 717 carrying 96 passengers, three airline attendants, two pilots, and no nose landing gear. Due to a technical problem with the plane the airport had to shut down the runway. All passengers were safely bused to the terminal, with only some passengers shaken from the ordeal. The airport said that they were attempting to clear the runway of the malfunctioning aircraft.
Chris Skotarczak, a very composed passenger, captured the moment on camera as the jet touched down on the runway. The plane's front emergency slides then deployed.
Faults in a planes nose gear have occurred, according to Delta personnel, but it's rare. A representative for Delta Air reported that the well-being of their passengers and employees is their top priority. Flight 1092 successfully landed with no reported injuries thanks to the crew's rigorous training to properly handle a wide variety of eventualities.
According to Skotarczak, the wheel on the nose of the aircraft could not be seen in the shadow of the plane on the tarmac. He would not have realized anything was amiss if he hadn't witnessed that or been warned to brace for their landing. It was announced by the pilot that they would soon be touching down. He warned that passengers would soon hear a deep thump followed by a great deal of grinding. However, the landing was virtually as gentle as a normal one.
Passengers were instructed to leave all belongings on board and use the slides to egress the aircraft, which Skotarczak described as "the coolest thing."
The FAA is now looking into the matter.
Copyright 2023, DailyDig.com