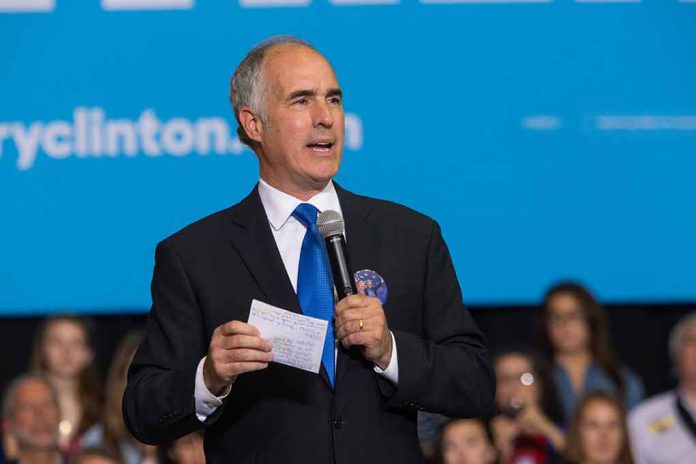 (DailyDig.com) – On April 10th, Pennsylvania Democratic Senator Bob Casey declared his intention to run again in 2024.
Casey, the son of previous PA Governor Bob Casey Sr., was first elected in 2006. Prior to that, he had served as Treasurer and State Auditor General. The senator stated in January that he had been diagnosed with prostate cancer; he subsequently had surgery and is now back at work.
During his reelection campaign, the senator plans to advocate for cheaper prescription drugs, hydrogen power stations, more local semiconductor manufacturing, and improved infrastructure.
Casey is running for a record-setting fourth term, making him the longest-continuously serving Democrat from the battleground state. The senator, who has become close to President Biden, says he will focus on fighting for middle-class people and will go after special-interest corporations.
He claims to have spent many years traveling across his state's 67 counties in order to meet the needs of his constituents. That's the strategy he'll use for the campaign. As he puts it, he would "try to earn every vote."
Casey's most likely Republican 2024 opponent is David McCormick, who was defeated by Dr. Oz, who was backed by Trump, in the state's 2022 Republican Senate primary. State Senator Doug Mastriano, also endorsed by Trump, has hinted that he may run as a Republican rival against McCormick.
McCormick claimed that Casey always supports Joe Biden's failed liberal agenda. Five thousand people in Pennsylvania died from fentanyl in 2020 because of Casey's advocacy for open borders. Pennsylvania, being the second-largest fuel-producing state, has seen thousands of livelihoods lost due to Senator Casey's backing of liberal energy policies.
Casey has worked with both Democrats and Republicans on legislation throughout his term in the Senate. When he first arrived in Washington, the senator had a Second Amendment rights posture that put him at odds with his fellow Democrats. Eventually, though, he turned around and helped negotiate laws like background check requirements.
Copyright 2023, DailyDig.com