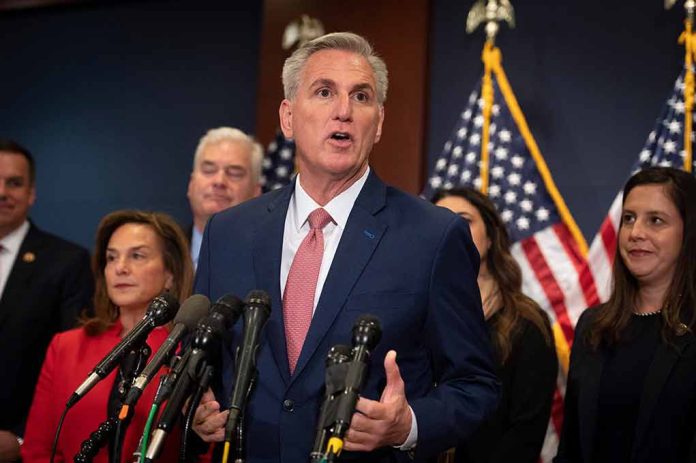 (DailyDig.com) – After the Republican-controlled House went on summer break early, more than a hundred Democrats signed a letter to House Speaker Kevin McCarthy of California, requesting him to hold additional votes on restrictions on gun proposals.
The Democratic Party call their proposals a set of laws to reduce gun violence.
Representative Mike Thompson, a Democrat from California who heads the House Gun Violence Prevention Task Force, wrote to McCarthy on August 3 requesting that votes be scheduled on firearm-related legislation as soon as feasible this year. One-hundred and eight more House Democrats who are part of the Task Force also signed the letter.
The task-force Democrats sent the written message to McCarthy, expressing their displeasure with the decision by Republican leadership to postpone votes and begin the House's summer holiday a day early last week. There were a lot of serious problems that they had to address before taking a break, they said. First and foremost is the epidemic of gun violence, which kills more American children than any other single factor.
In 2022, there were 1,686 child murders and 4,485 child gunshot wounds. Gun control advocates said the House has not even had a single vote on any firearms-related violence prevention legislation despite all of this needless bloodshed.
The members also outlined their latest standing demand that, should leadership ever be forced to adjust the voting schedule or suspend votes completely, the extra time be used to debate measures aimed at reducing gun violence.
A longer time for the FBI to do a background check, increased background checks, and a ban on assault weapons are some of the gun regulations Democrats have advocated so far this year.
Contrary to popular belief, the Golden State already has strict gun laws, including a waiting period of ten days, increased background checks, and a prohibition on "assault" weapons. In addition, in 2021, California led the nation in the number of killings caused by firearms. That year, California had the highest rate of firearm homicides in the country at 17%, especially for a state with strict gun laws.
Copyright 2023, DailyDig.com