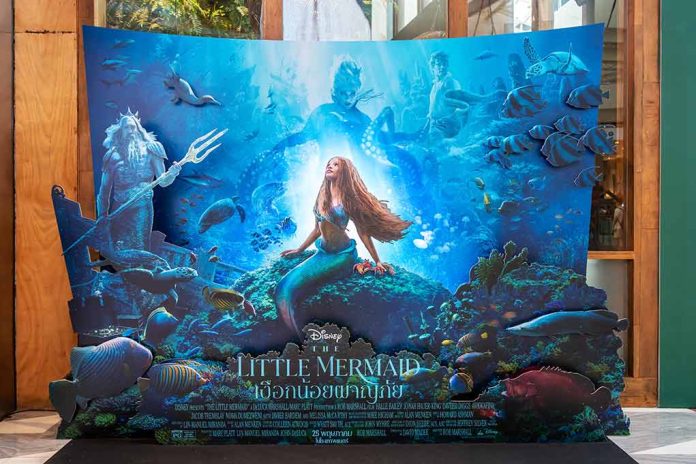 (DailyDig.com) – The live-action version of Disney's movie, "The Little Mermaid," was a successful film in its opening weekend, but it still failed to meet projections.
The film had a hard time catching on in other countries. The film's international gross of $68.3 million is less than Disney had planned for. With $2.5 million, it was only the fifth-highest grossing film in China, behind the anime "Sword Art Online The Movie."
The box office took off during the four-day weekend of Memorial Day beginning on May 26. With an estimated $117.5 million, "The Little Mermaid" had the fifth-highest opening ever over Memorial Day weekend. The opening weekend of the film coincides with the Memorial Day 2019 weekend earnings of the "Aladdin" remake, which were also about the same.
One of the most controversial and talked-about Disney films of recent years is the remake of a classic animated film. Casting Halle Bailey as Ariel and making other alterations have been met with controversy, pushback, and remarks critical of the film.
Disney was criticized for race-swapping the primary princess, Ariel, who was originally white, for being black. Some have claimed that the company has changed the mermaid's appearance from what it was originally intended to be. The 1989 animated film's Ariel has red hair and a fair complexion, whereas the 2023 live-action film's Ariel, played by Halle Bailey, is black.
The choice to update the lyrics to "Kiss the Girl" in an effort to appeal to a modern audience caused even more controversy. Alan Menken, the film's composer, has said that the reason for the revised lyrics is because audiences have become very sensitive to the concept that Prince Eric would impose himself upon Ariel. The phrases "Poor Unfortunate Souls" that could cause young females to feel like they ought to refrain from speaking out have been altered.
According to the channel "OMB Reviews" on YouTube, this may be something new for Disney. This is the first time a Disney film with a wide release has underperformed financially.
Copyright 2023, DailyDig.com