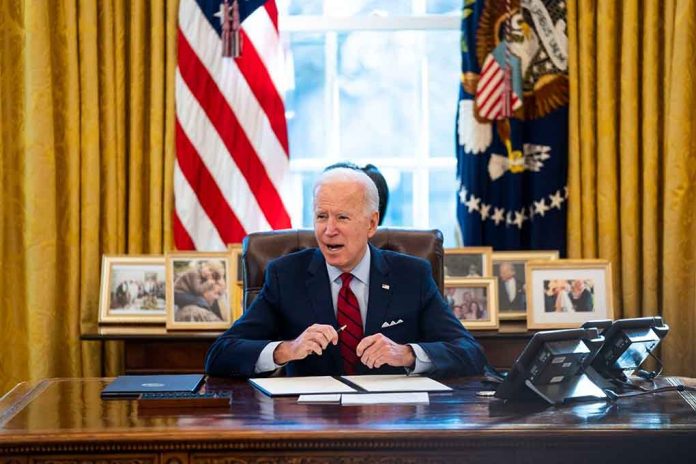 (DailyDig.com) – Several months after the FBI searched Donald Trump's Florida residence, a limited number of sensitive documents were uncovered in Joe Biden's former office.
In November 2022, the National Archives requested the DOJ to investigate after a limited number of sensitive documents, some marked highly classified, were found in a secure room in the Penn Biden, located in Washington, where Biden worked after leaving the Obama administration as an honorary professor from 2017 to 2019.
The anonymous individual claimed Attorney General Merrick Garland has requested an Illinois U.S. attorney, a carryover from the Trump administration, to lead the inquiry alongside NARA and the FBI. These documents appear to be Obama-era papers.
The White House confirmed the revelation and probe Monday, Jan. 9, claiming Biden's attorneys self-disclosed the records after the office was vacated.
"The White House is cooperating with the National Archives and the Department of Justice regarding the discovery of what appear to be Obama-Biden Administration records, including a small number of documents with classified markings," White House special counsel Richard Sauber said after the media disclosed the discovery.
Sauber claimed Biden frequented this location from mid-2017 through the 2020 campaign. The White House informed the National Archives of this discovery on November 2, 2022, and they acquired the documents the next day.
He stated that the Archives had never requested the materials. Since that finding, the Biden's personal attorneys have worked with the Archives and the DOJ to guarantee the Archives had these papers.
Since Biden attacked Trump after the FBI uncovered sensitive materials at his Mar-a-Lago office and Garland designated a special prosecutor to look into the 45th president, the shocking news is likely to have political repercussions.
Republicans in the House promised a thorough inquiry as they noted Biden's reckless remarks about Trump stealing confidential materials from the White House as irresponsible.
The incoming House Oversight and Accountability Committee chairman, Rep. James Comer, R-Ky., claimed the DOJ and National Archives had prioritized Presidential Records Act compliance under the Biden Administration. President Biden, who presumably kept sensitive papers insecurely for years, should be treated similarly.
Copyright 2023, DailyDig.com