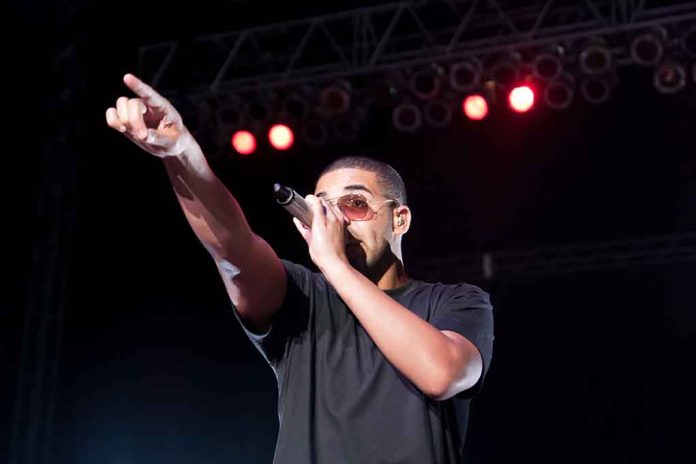 (DailyDig.com) – A Drake performance was recently interrupted after a fan fell from the balcony into the orchestra pit. On Sunday, January 22, he played at the iconic Apollo Theater in Harlem, New York.
Drake welcomed his colleague, 21 Savage, for a sequence of duets around 90 minutes after taking the stage. However, before the duo could begin, a man's body fell from the second level.
https://twitter.com/DrakeDirect_/status/1617380843143725056?ref_src=twsrc%5Etfw%7Ctwcamp%5Etweetembed%7Ctwterm%5E1617380843143725056%7Ctwgr%5E47cd1cd8a12dcee8f00adf014df4ff4346641896%7Ctwcon%5Es1_&ref_url=https%3A%2F%2Fwww.insider.com%2Fdrake-fan-fell-off-balcony-concert-apollo-new-york-2023-1
A member of the crew rushed up and approached the rappers, who then exited the stage. Drake informed the audience that all they needed to do was make sure everyone was alright. The lights of the arena were switched on, and security officers could be seen sprinting through the throng toward where the man fell.
According to a concertgoer, the man did not really fall but rather leaped into the throng from the balcony due to his being so excited.
After nearly 15 minutes, an announcer said no one was injured, which an Apollo spokesman verified on Monday. The announcer said, "Everybody is absolutely OK. They are being checked on. Nobody's hurt. But I got even better news for you: We're at the Apollo so the show must go on."
Based on the Apollo statement, when they heard of a potential fan injury, Drake, Apollo, and SiriusXM promptly paused the event and followed regular processes by having the on-site EMS respond promptly. Everyone said they were alright with no serious injuries.
Drake and 21 Savage then returned to play tracks from their collaborative album, "Her Loss," due out in 2022.
Drake said in between songs that everyone is fine and that they should create more noise to celebrate that no one was hurt. He thought they should play a bit longer because everyone had to wait approximately 15 minutes.
Before his last song, "Legend," Drake praised his audience for their strong energy during the evening and for their patience with the delays. He conveyed his appreciation for the fantastic audience.
Copyright 2023, DailyDig.com