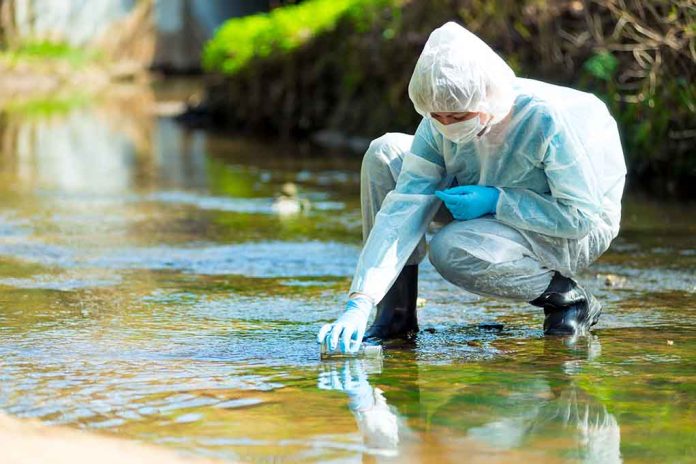 (DailyDig.com) – The Environmental Protection Agency (EPA) administrator, Michael Regan, was critical of the states that are blocking the shipment of dangerous material from the Norfolk Southern crash site in Ohio on March 17.
Regan said that the government had mandated that Norfolk Southern do the cleanup of the dangerous mess made and that nobody should get in the way of that effort. To remind Norfolk Southern and the states of their fiduciary duties, he wrote two notifications: one to CEO Alan Shaw and another to the EPA regulators around the country.
When a Norfolk Southern cargo train with toxic substances derailed in early February 2023 and a controlled fire later spilled the substances into the environment, approximately 2,000 people in East Palestine were evacuated. The EPA has removed 5,460 tons of polluted soil and 6.8 million gallons of polluted water from the area, but jurisdictions with dangerous waste disposal facilities have refused to take the debris.
It was argued by officials from Indiana, Michigan, and Texas that the dangerous material should really be treated closer to the accident site; therefore, they opposed the material being dumped within their states. On March 12, Oklahoma's Governor, Kevin Stitt, said that too many unknowns exist to allow hazardous waste to be transported.
According to Regan, banning deliveries from certain states might make it difficult for Norfolk Southern to follow EPA directives.
The EPA wrote to all the states, explaining that stopping the shipments would likely be a violation of federal law governing the interstate transmission of waste, and that the Commerce Clause in the Constitution limits the state's capacity to stop the transportation of dangerous waste.
Regan said that the hazardous trash being hauled away from the site had been subjected to more rigorous testing, classification, and analysis than many similarly disposed of materials regularly accepted at sites around the nation.
It is not reasonable, according to Regan, for governments to prohibit accepting material from East Palestine when allowing the disposal of more simple material.
Copyright 2023, DailyDig.com