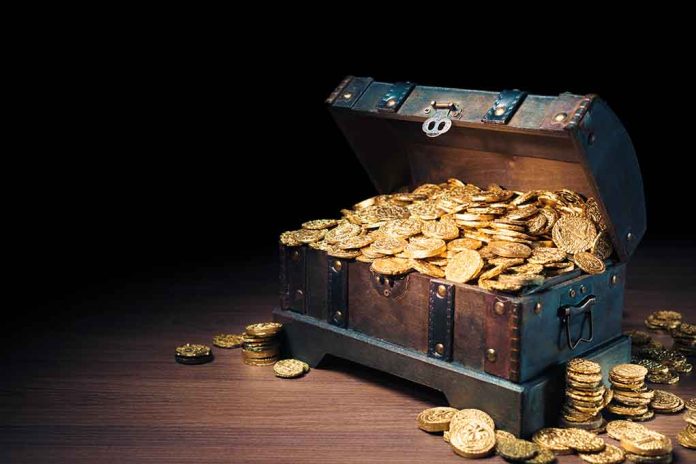 (DailyDig.com) – A treasure hunting group believes it found tons of Civil War-era gold in Pennsylvania. After members led the FBI to the site where they say their instruments detected a massive amount of metal underground resembling gold, authorities made them wait in their car while the FBI excavated the area. Now, the group of treasure hunters is alleging the FBI destroyed evidence tied to the discovery.
Treasure hunters who claim the FBI made off with several tons of buried Civil War-era gold are now questioning whether evidence related to the 2018 excavation in Pennsylvania has been destroyed
https://t.co/nq942Kc7lY

— CBS Evening News (@CBSEveningNews) March 21, 2022
According to CBS News, Finders Keepers, the treasure hunting group, filed a lawsuit against the Department of Justice (DOJ) early in 2022, after its members said the FBI failed to produce records of the dig. The group's recent court filing on March 18 claims the FBI originally said the excavation records included 17 videos. Finders Keepers mentioned the FBI now claims to only have four videos of the dig, alleging the bureau destroyed the rest.
Anne Weismann, the Finders Keepers' attorney, asserted the failure of federal officials to provide reasoning for the discrepancy leads to the question of whether the FBI deleted evidence of the treasure. The lawyer asked the judge to order the FBI to explain the discrepancy regarding the number of videos it has on file.
The FBI claims the dig in March 2018 provided no evidence of gold being there, despite claims of tons of Union gold being lost or stolen in the area during the Battle of Gettysburg in 1863. Weismann noted the only conclusion they could draw from the FBI's suspicious behavior is that it doesn't want to disclose to Finders Keepers or the public the existence of gold in Dent's Run, Pennsylvania. The attorney added the records her clients are after would prove or disprove the legends of the gold's existence.
Copyright 2022, DailyDig.com