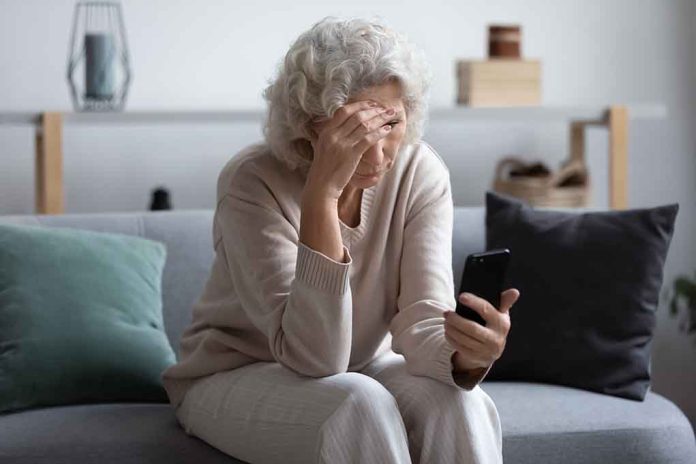 FBI Reveals SCAM OPERATION – People Over 60 Targeted!
(DailyDig.com) – Scams have become so common in America that many people know how to detect and report them. Even so, there's still a good portion of the country that falls for these schemes. Many professional swindlers target older people, resulting in a combined loss of $1.7 billion in 2021.
A report from CBS sheds some light on a dark truth in America, defrauders ripping off elderly people. One woman, Sherri, lost "hundreds of thousands of dollars" three years ago. A scammer had called telling her they were an agent with the Drug Enforcement Administration and explained that they had found a car full of drugs with her bank statements. Naturally, the "agent" told Sherri she could pay them in order to avoid trouble. Unfortunately, due to concern, she believed what was said.
It happens to thousands of older people. CBS notes that in 2021, fraudsters stole $1.7 billion from the senior population. Even William Webster, former director of the Federal Bureau of Investigation and Central Intelligence Agency, dealt with someone who tried to get $50,000 from him to collect the winnings of a sweepstakes. He asserted that "if it can happen to me, it can happen to you."
Ronald Miller, the FBI agent working on the case, mentioned the same scammers who fooled Sherri have stolen at least "$10 million to date." Miller illustrated how scammers target older people because "They're lonely. They're trustworthy. They believe it's legit."
Anytime a person or organization asks for bank account details, a social security number, and other personal information, it's probably not legitimate. If the caller becomes threatening, they're likely a crook. Learn to detect the signs of scams and spam calls to protect yourself and potentially loved ones. The AARP and WikiHow both offer great information to safeguard yourself. Be sure to report any scammers to the Federal Communications Commission, which also offers good information on how to avoid and report scams.
Copyright 2022, DailyDig.com