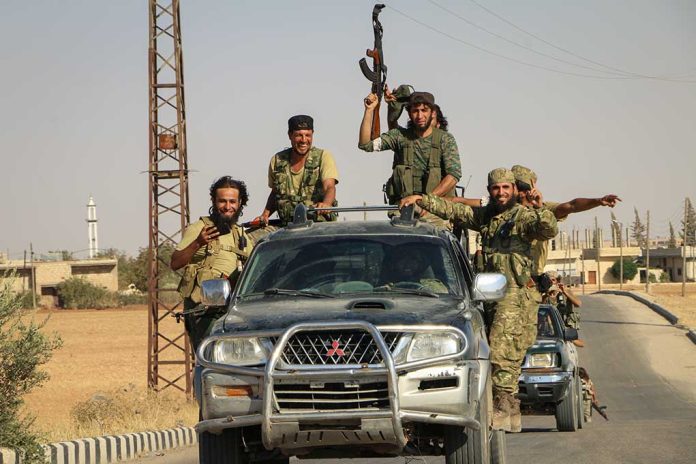 Child Trafficking BOMBSHELL – Feds Step In
(DailyDig.com) – The United States and several other countries around the globe are dedicated to eradicating the terrorist organization ISIS off the face of the earth. While fighting has come to a halt, for now, the US and other allies are finding other ways to put an end to the extremist ideology. Most recently, the US government announced sanctions against five ISIS facilitators the federal government believes may be involved in child trafficking, namely for recruits.
The US placed #Sanctions on a network of 5 #ISIS financial facilitators accused of assisting the terrorist group in the smuggling of children out of displaced camps for recruitment as fighters. https://t.co/Xg4vFrTewd

— The Epoch Times (@EpochTimes) May 10, 2022
The US Department of the Treasury released a statement indicating that the five people — Dini Ramadhani, Ari Kardian, Dwi Dahlia Susanti, Muhammad Dandi Adhiguna, and Rudi Heryadi — have been working in Syria, Indonesia, and Turkey. The Epoch Times reported that as a result of the sanctions against them, all five individuals will not be able to reach any of their US-based assets.
The Treasury's statement accuses all five people of facilitating the movement of extremists into Syria and other regions where ISIS is known to operate. The Treasury also noted the network of five individuals was responsible for collecting funds in Turkey and Indonesia, which ISIS sometimes used to smuggle children out of displacement camps to become potential fighters.
Secretary of State Antony Blinken asserted he hopes the US sanctions will disrupt the ISIS network and their recruitment of children. The sanctions came as a result of the May 9 meeting of the Counter ISIS Finance Group, part of the Global Coalition to Defeat ISIS, a coalition of 70 countries and international organizations which the US, Italy, and Saudi Arabia lead.
Copyright 2022, DailyDig.com