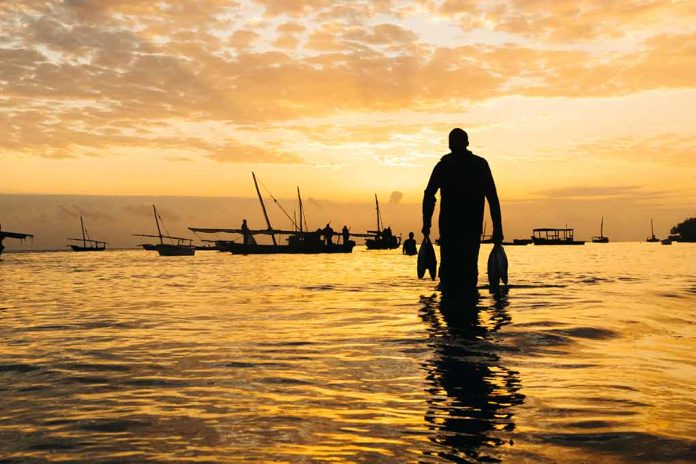 (DailyDig.com) – There are about 5,600 self-sufficient lobster fishermen in Maine, all plying the coastal waters with their traps.
In addition to lobsters, their traps often include unusual objects like puffer fish, eels, horseshoe crabs, and other marine life that gets tangled in the ropes or crawl into the trap itself as it is hauled up from the ocean bottom.
Think of the shock a lobsterman felt on April 10th. He caught a military rocket that measured five feet in length whilst fishing twenty nautical miles along the Maine coast. The fisherman was lucky when the rocket didn't go off when it was bouncing about in his vessel as well as in the bed of his vehicle on the way back to his house.
On Monday afternoon, Cameron Pease, the trawler captain of Cushing, Maine, found a rocket entangled in the line. On Tuesday, Pease phoned a local warden, who in turn called the Bomb Squad from the Maine State Police to destroy the 150-pound device.
According to the report from the Maine State Police, the rocket was analyzed by a bomb squad, which determined that it was an MK29 Mod-0. The rocket was x-rayed by the police bomb squad specialists, but they couldn't tell whether it contained explosives or not.
The mobile bomb disposal outfit from the Navy helped technicians securely dismantle and dispose of the rocket. Pease said that an X-ray was performed on the tip and confirmed that everything was there and accounted for.
Pease said that it might have still been able to detonate despite the delay, so they used an additional little dynamite charge and set it off. He has no idea how much of the 3–5 lbs. of explosive substances in the top did not detonate while submerged in water for the last 20 years. The missile's expiration date of 2003 was displayed prominently on top, therefore its length of time underwater prior to that year is unknown.
It's still a mystery where the rocket exactly came from.
Copyright 2023, DailyDig.com