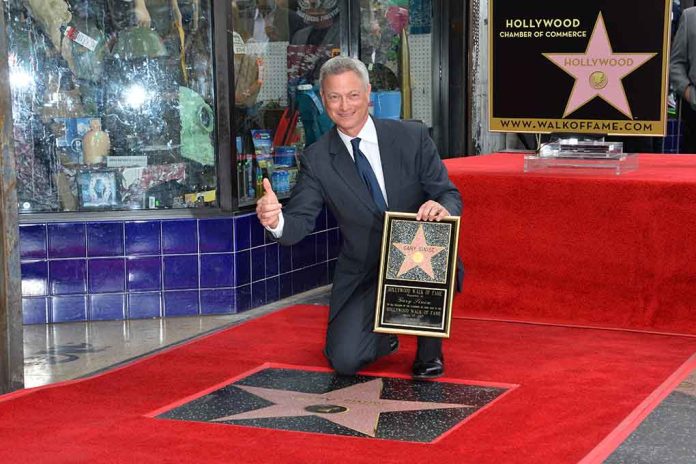 (DailyDig.com) – Gary Sinise is being honest when he talks about how his politics have affected his success in the entertainment business.
Sinise, who received an Oscar nomination for his portrayal of Lt. Dan in "Forrest Gump" in 1994, has been vocal about his political beliefs and the founding of the conservative organization Friends of Abe in 2004. The Criminal Minds: Beyond Borders actor chuckled when asked whether conservatives in Hollywood needed a support group, stating that his organization was established during the early days of the Iraq War.
"I think so much was motivated by…what happened to our Vietnam veterans and the lack of support that they got and the way they were treated, and then we regretted it later on. I didn't want our Iraq War and Afghanistan veterans to fall prey to any of that kind of stuff. I just wanted to get in there and support them. So, I started looking for people that were just in the same camp as me on that subject. And I found other folks in the movie and television business who enjoyed getting together," Sinise explained.
The actor has also been outspoken about his adherence to the Second Amendment, and he has said that several approaches to gun regulation are undoubtedly required. He doesn't think that there is just one answer to our dreadful situation.
Sinise said that he had some amazing chances in Hollywood and can't really complain about his acting career when asked whether he could have had a greater career in Hollywood if he had concentrated on just acting. He said he has worked with incredible people and accomplished remarkable things. What he is doing right now in the service sector has been greatly influenced by his profession.
In 2011, the Apollo 13 actor established the Gary Sinise Foundation, which offers initiatives like Relief & Resiliency Outreach that help those in need as they recover from trauma, loss, or injury. The non-profit organization also runs a project called RISE that builds smart houses for wounded American warriors.
Copyright 2023, DailyDig.com