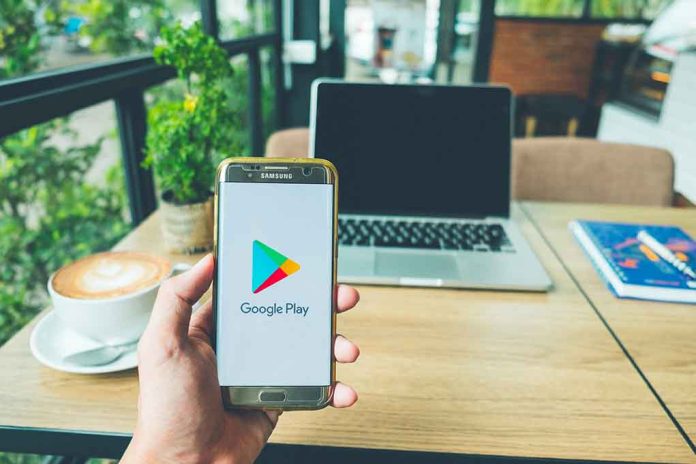 (DailyDig.com) – Tech giant Google has been making headlines recently, warning billions of Android users of potentially dangerous apps and scams, and now banning apps from their Play Store, claiming the programs are collecting user data. The move seems a bit like the "pot calling the kettle black" to many people, as Google itself has been under severe scrutiny for collecting user data. Is this a "rules for thee, but not for me" scenario?
Implementing the Ban
Google decided to ban several apps, without detailing an exact number, after discovering they contained data-harvesting coding within their development software. The company behind such widespread data collection is Measurement Systems S. de R.L., a Panamanian-based company with connections to US National Security contractors. As reported by the Wall Street Journal (WSJ), apps containing these codes were run on millions of Android devices, many coming from Muslim prayer apps amassing over ten million downloads.
Google also found the harvesting code among highway radar detection apps, QR scanners, and several other consumer-focused apps. According to a researcher at the International Computer Science Institute and the University of California, Serge Egelman, and University of Calgary colleague, Joel Reardon, the apps' software development kit (SDK) measurement systems are the most invasive to user privacy they've ever seen. The pair co-founded AppCensus, which examines app security and privacy.
Egelman declared the software could easily be described as malware. Sounds like it's a good thing Google banned apps containing such harmful data-harvesting. Though one can't help but wonder why Google feels it has the power to ban such applications when the company itself has been found to collect user data, even without users giving them permission to do so. Could the company be making a show of protection on one front simply to downplay the severity of its own actions?
Scott Westover, a spokesman for Google, mentioned the company removed the apps, as they were collecting user data outside of Google's parameters, on March 25. Westover added that apps Google removed from its Play Store could return, but only after they removed the measurement systems code. WSJ expressed, that many apps have already reemerged in the store.
Not Much Can Be Done
Google's ban doesn't have any impact on the data-harvesting abilities of measurement systems where users have already unknowingly downloaded the software. The co-founders of AppCensus noted that once they began spreading awareness of the data collection, the SDK stopped collecting user data. Egelman and Reardon also found that devices with the software installed could even have a much larger reach due to their ability to spot other devices using the same WiFi as the infected devices, creating social network maps. Egelman mentioned this scenario only deepens the importance of not taking anything from strangers.
Google is infamous for harvesting data, especially for the locations of its users. The tech giant has actually found itself in legal trouble as several states are beginning to sue over location tracking practices and user deception. Going by this story, Google finds no fault in its own data collection, and will allow others to collect data so long as they follow the established rules in doing so.
Copyright 2022, DailyDig.com