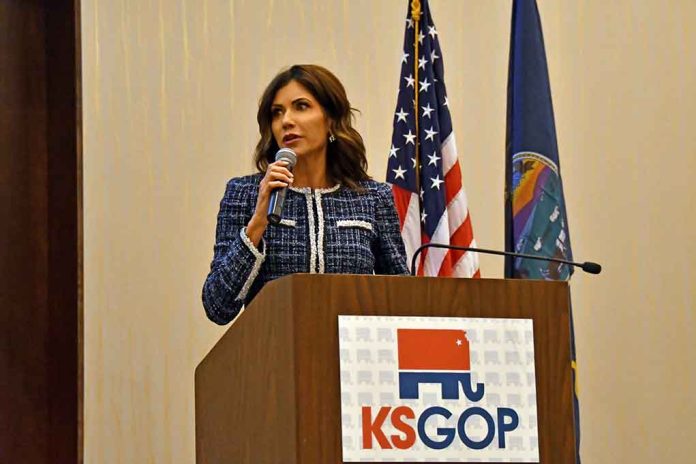 (DailyDig.com) – Despite criticism from special interest organizations, Republican South Dakota Gov. Kristi Noem announced she would support legislation to bar the Chinese Communist Party and its companies from buying agricultural land.
The South Dakota Association of Cooperatives emailed the governor's staff, saying agricultural groups had evaluated an amended measure and were worried about its legality and constitutionality. In an interview, Noem dismissed it, saying the Chinese Communist Party is too dangerous.
"I think all of us can agree as Americans that China shouldn't be buying up land in the United States. They are an enemy," said Noem. She banned TikTok from state devices in November 2022. Later in 2022, the federal government followed Noem's ban, along with numerous other governors, both Republican and Democrat. She stated that communism is a wicked regime that robs people of their freedom. That shouldn't exist in our magnificent nation.
She stated that months ago, a Chinese organization acquired land near an Air Force base in their neighboring state, North Dakota. The purchase was meant for a corn plant, but there was not enough grown in that area to support it. She believes we shouldn't let enemies near our vital security facilities.
She said it's concerning that China is focusing on property near U.S. Air Force sites, considering Rapid City's Ellsworth Air Force Base would house the B-21 bomber. Noem's measure would establish a committee to review foreign agricultural property transactions and advise the governor. This would stop foreigners from buying land in SD.
Noem wrote to Congress in December 2022, requesting federal legislation to help state and local governments ban Chinese investments. She mentioned Congress's 2010 Comprehensive Iran Sanctions, Accountability, and Divestment Act and the 2007 Sudan Accountability and Divestment Act. It would let states follow South Dakota's lead and consider divesting from a nation that hates Americans.
Other states are contemplating joining North Dakota in banning Chinese land purchases. Ron DeSantis, Florida's governor, calls China a nation that threatens the USA and warns the Chinese Communist Party not to invest in Florida's real estate ventures.
Copyright 2023, DailyDig.com