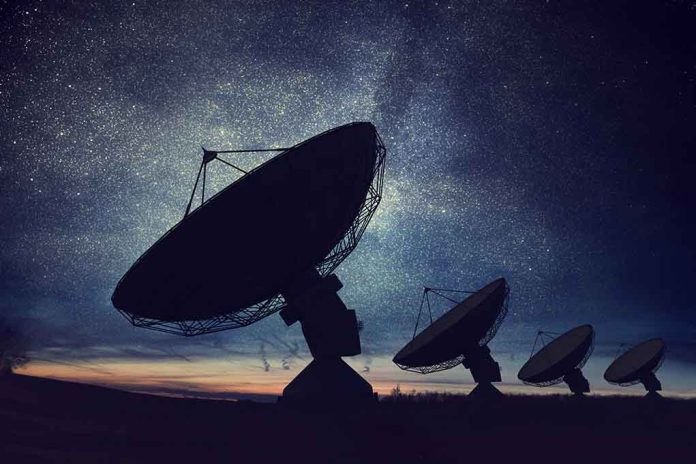 (DailyDig.com) – Green lasers were seen on streaming video from the National Astronomical Observatory of Japan's Subaru Telescope on Mauna Kea taken late in January 2023. The NAOJ-released video seems to show a large number of unexplained green beams firing in rapid succession over the sky at night.
A satellite that senses the altimeter remotely was first suspected to be the source of the brief laser bursts. However, a revision by the NAOJ on February 6 showed that the ACDL instrument aboard China's Daqi-1/AEMS satellite was likely the source of the laser beams.
According to two specialists KHON spoke with, nations throughout the world are aware of the satellite, so there's no reason to believe it's being used for spying on the United States. It's not quite clear what the beams are for.
Roy Gal, from the Institute of Astronomy at the University of Hawaii, believes it is a Chinese environmental monitoring satellite tracking toxins in the atmosphere.
An opposing view was held by Ray L'Heureux, a former official from the Marine Forces in the Pacific. He has his doubts and doesn't think the Chinese, who are among the world's worst offenders when it comes to pollution, would be interested in gathering information on pollution levels near Hawaii.
The US is on alert as a result of multiple disturbing sightings made across the country and Canada. This bizarre laser display does little to calm their fears.
Both experts agree, though, that it cannot be shown that it's a satellite for spying. According to Gal, the United States already has satellites that do the same functions, and this satellite is just in Earth orbit with a precisely determined path.
These images were captured on Mauna Kea on Saturday, January 28, a full week before a Chinese balloon traveled across the country. It was finally shot down as it reached the Atlantic Ocean east of South Carolina.
L'Heureux said that he believes folks are on edge from the spy balloon incident. He thinks we need a little more care and vigilance to calm the tension.
Copyright 2023, DailyDig.com