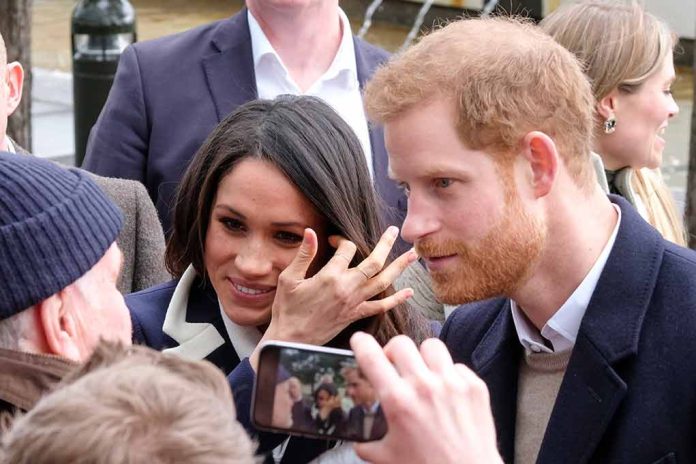 (DailyDig.com) – A spokesperson for Prince Harry and Meghan Markle said the couple were involved in a "near catastrophic" car chase with reporters in New York. The couple, along with Markle's mother, Doria Ragland, were on their way home from the Ms. Foundation Women of Vision Awards at Ziegfeld Theatre in New York City on May 16th when the incident occurred.
Julian Phillips, deputy commissioner of public information for the New York Police Department (NYPD), said, "Numerous photographers made their transport challenging."
The couple said they were forced to leave their original vehicle because pursuing paparazzi made their journey hazardous. Police helped them find a cab driven by Sukhcharn Singh, who later said the photographers continued their pursuit after he picked them up. Singh took the Prince and his family to a nearby police precinct, where they spent several minutes before going home.
Photographers involved in the incident deny allegations that it could have caused a crash or resulted in physical harm. Backgrid, a freelance photography agency, has refused to hand photos over to the Duke and Duchess and said they had exaggerated the incident.
One photographer at the scene said it was the Royal couple's driver that was most likely to cause an accident. He said the driver was "doing 80 mph" in crowded Manhattan. "So if it was dangerous and catastrophic, it was more than likely based on the person that was driving," he said.
Prince Harry is a severe critic of the paparazzi and the couple have long complained about the methods photographers use to get pictures of them. The Prince has been involved in numerous scuffles and physical altercations with photographers. Prince Harry also blames the paparazzi for the death of his late mother, Diana, Princess of Wales.
Princess Diana died in a car crash in the Pont de l'Alma tunnel in Paris in 1997 when photographers were chasing her vehicle. Her death remains a source of inquiry and speculation to this day.
Copyright 2023, DailyDig.com