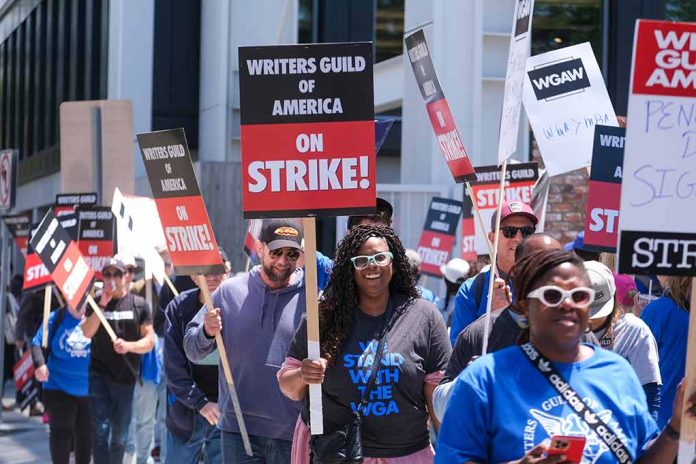 (DailyDig.com) – As the strike nears its 100th day, the Writers Guild of America (WGA) announced that negotiators for the striking writers in Hollywood and the biggest movie studios will go back to the negotiation table on August 11.
According to a statement released by the WGA on August 10, the 'Alliance of Motion Picture and Television Producers' (AMPTP), which represents Warner Bros., Discovery, Netflix, and Walt Disney, as well as other studios, is anticipated to respond to recommendations from the WGA.
The WGA went on strike on May 2 following negotiations with major studios that broke down on issues like residual compensation in the streaming age, baseline staffing of authors' rooms, salary, and more. Authors have been lobbying for restrictions on artificial intelligence (AI) because they worry it may replace human creativity.
During earlier earnings calls, officials from the studios expressed their hope for a speedy end to the strike. On August 4, the two groups got together to speak about getting back to negotiations and what each side planned to bring up. However, the WGA issued a statement later that was disparaging towards the studios, indicating that tensions were high throughout the negotiations.
On August 9, Disney CEO Bob Iger reached out to the Hollywood writing and acting community, stating his admiration for the industry's professionals. He emphasized that the corporation places a premium on maintaining positive ties with those in the creative industries. To everyone who contributes to the remarkable creative machine that propels this organization and the sector in which it operates, he extends his deepest gratitude and admiration.
Last month, Iger, who is known for being favorable to the talent, outraged striking Hollywood employees by saying that they were unrealistic in their demands.
The 11,500-writer strike has stopped production on major motion pictures and affected the majority of the fall TV season.
The Screen Actors Guild (SAG), which represents 160,000 actors, called for their strike on July 14 over compensation and AI. This was the first simultaneous actor and writer strike in the industry since 1960.
Copyright 2023, DailyDig.com