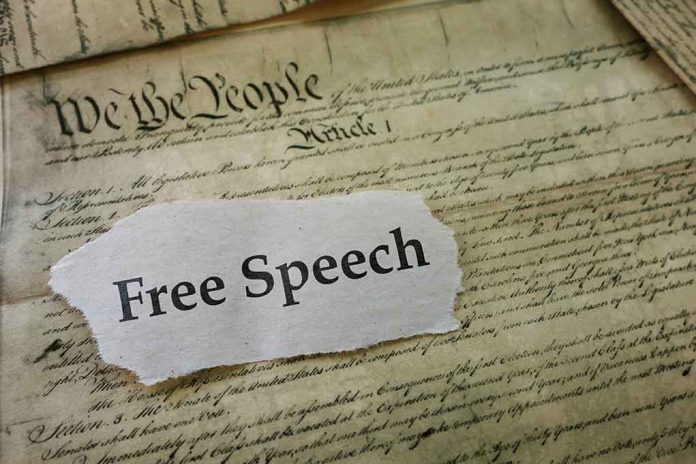 (DailyDig.com) – The "Protecting Speech from Government Interference Act" was passed by the House on March 9. The measure passed by a party-line vote of 219 to 206 and is not expected to go further in the US Senate, which is controlled by Democrats.
The bill, sponsored by Kentucky Republican and "House Oversight and Government Accountability Committee" chairman James Comer, establishes a benchmark that government workers operating the course of their professional duties shall not engage in anything under their power or leverage to endorse the restrictions of any speech that is lawful, nor actively support an employee of any company or business, including any private organization, to censor that kind of speech.
Comer said that the legislation would prevent government workers from advocating restrictions on private industry internet platforms, expanding restrictions set in the Hatch Act.
Washington Republican Representative Cathy McMorris Rodgers proposed the bill with colleagues Comer and Jim Jordan. They have documentation to back up McMorris Rodgers' claims that Biden's administration has become the administration of censorship by aggressively censoring dissenting voices in order to dictate the story to further their political goal.
The "Weaponization of the Federal Government" inquiry by the House conducted a hearing on the DOJ and FBI civil rights attacks on US citizens. The Republicans in the house requested FBI data on its attempts to block social media information. Elon Musk sent chosen journalists the Twitter Files, which revealed the FBI's participation in Twitter.
It was found that about $3.5 million was paid from the FBI to the Twitter organization for the amount of time Twitter spent executing requests in connection with the 2020 election, according to the House Judiciary Committee. Jim Jordan, chairman of the House Judiciary Committee, said he is saddened by those discoveries supporting our grave worries about the malfeasance and antagonism by the FBI to the First Amendment.
Passage of the "Protecting Speech from Government Interference Act" by the House demonstrates the Republican Party's dedication to safeguarding the rights of the First Amendment of Americans, but the measure has little chance of passing the Senate.
Copyright 2023, DailyDig.com