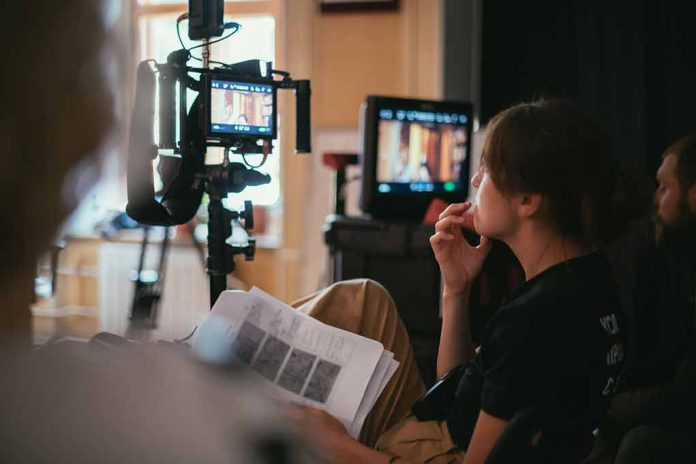 (DailyDig.com) – In an interview recently, Miranda Cosgrove spoke about an unpleasant incident that happened to her when she was 13 while shooting an episode of "iCarly."
The acclaimed actress laid out what happened before the awful event. She remembers being compelled to use a trampoline for a presentation on a web program when she was only about 13 years old. To give the impression that she had a fuller figure, she stuffed something inside the bra she was wearing at the time.
She went on to describe the utter shame she felt as her bra insert flew out of her garment in view of everyone. They screamed "Cut" as it sailed through the air to end the take. The only one who knew the truth about what had transpired was her. According to Cosgrove, the situation was quite humiliating.
She elaborated on the precise time it occurred. Cosgrove was having a great time on the trampoline when, suddenly, one of the items she inserted flew out. It was something so trivial that she can't even remember what it was. She thinks it was a cutlet or something like that.
Cosgrove recalls having to go on the run while hiding the true nature of her search. Her coworkers quickly caught on that she was missing something and started looking for it with her. But she became too ashamed to reveal to them what had occurred or why she was searching for something.
She recalled discovering it and assumed she had tucked it away somewhere; anywhere to keep it out of sight.
Nathan Kress, who co-starred with Cosgrove at the time, was curious about what sailed in the air, but she didn't explain it to him. Since he had no clue what it was, he refused to let it go until he figured it out. She thinks her co-star, Jennette McCurdy, knew what had occurred but didn't say anything to her. Cosgrove was ashamed since the situation was so awkward. She can't forget it now.
Copyright 2023, DailyDig.com